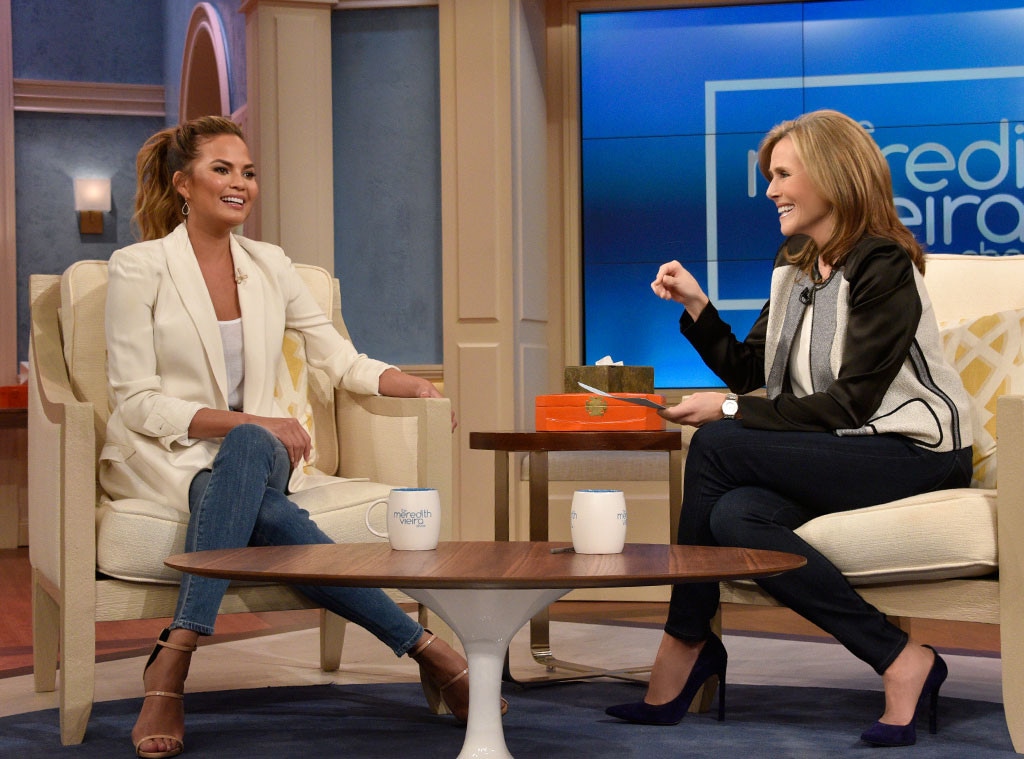 Eugene Gologursky /NBC
Chrissy Teigen is just like the rest of us—sometimes, she just isn't in the mood to bother with a filter.
Asked about what inspired her recent shout-out to her own stretch marks that she posted on Instagram last week, the model and Lip Sync Battle commentator explained to Meredith Vieira how it all came to be.
"I actually am working on a cookbook and I was bumping around in the kitchen and the door handle would just nick me every single time," Teigen recalled in an interview airing Friday on The Meredith Vieira Show. "And I was actually just taking a picture of the bruises and then I saw the stretch marks in there. I have those apps, the Facetune and Photoshopping ones, and I just didn't feel like doing it anymore—and I'm never doing it again, because I think we forgot what normal people look like now."
Easy enough for her to say, we don't picture Sports Illustrated publishing an untouched version of the Swimsuit Issue cover anytime soon, but... The more women in the corner of not airbrushing over daily life, the better!
"I mean, people are nip-tucking [their photos]," Teigen continued. "It's gotten to the point where they're not smoothing their skin anymore, they are actualy changing the shape of their body and everybody else. Nobody can compare to that when you're fixing yourself so much.
"It's so unfair," she added. "It started with Botox and everything, of course, but now it's just grown into this Photoshop phenomenon and I've seen these women in person, they are not like that. Please know that. I've shot in barely anything [i.e. half-naked] with them and it's just amazing what people do to tweak themselves."
Preach, Chrissy!
Meanwhile, another way that Teigen is an awful lot like non-supermodel folks... she can't help but be awkward sometimes.
The first time she met President Barack Obama and first lady Michelle Obama, "I hit him pretty hard in the back," Teigen recalled. "It was a very...he was definitely a little thrown. I don't think people really do that to him much."
"It's called glad-handing, it's a good thing," Vieira reassured her.
"Yeah, I was chummy," Teigen admitted.
"I'm horrible at it, actually," she said about meeting the first family (which she has done with singer-songwriter hubby John Legend). "I start Googling, every single time, how do you address them? Is it Madam First Lady? And then that all goes out the window. I'm like, 'What's up B.? Barack, yo.'  And then Michelle, I was a little, I don't know what to do, I don't know what to say with her. For some reason, I think I try to be so normal because I feel like people must be so uptight around them, so I think I overcompensate and then I am disrespectful."
And yet they've been invited back "many times."
"That's the thing, every time we get an invite I'm like, 'Oh God, they don't remember what happened last time!'" Teigen exclaimed.