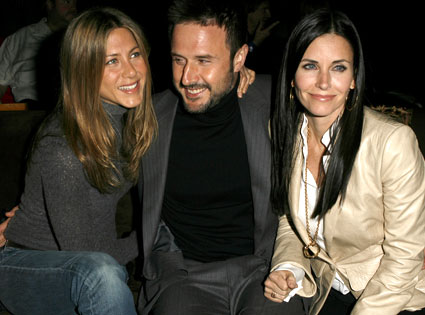 Jeff Vespa/Getty Images
GREEN IS GOOD: Jennifer Aniston, Cindy Crawford, Rande Gerber, Heidi Klum, Ben Harper, Laura Dern, Isla Fisher and David Spade, enjoying gifts from Envirosax and Superstar Nail Lacquer at the Beverly Hills home of Courteney Cox and David Arquette, to celebrate the launch of the couple's new organic clothing line, Propr.
A FAMILY AFFAIR: Matthew McConaughey, sipping on a Lean1 performance shake, while hangin' with girlfriend Camila Alves and baby Levi at the playground near the Cross Creek Country Mart in Malibu.
CHECK, PLEASE: Bar Rafaeli, treating on-and-off boyfriend Leonardo DiCaprio and two friends to dinner at BLT Steak in Los Angeles.
GOLD MEDAL DINER: Michael Phelps, enjoying meals at Nove Italiano and N9NE Steakhouse, both at the Palms in Las Vegas.
A SWANKY SUNDAY: Hilary Swank hosting the Joyful Heart Foundation's annual fundraiser last Sunday in Venice Beach, where guests sipped on p.i.n.k. vodka specialty cocktails.
BABY BONDING: Mark Wahlberg's fiancée Rhea Durham and baby boy Brendan, shopping for bibs, burpcloths and T-shirts from Plain Mary at Petit Tresor in West Hollywood.
VEGAS VIXEN: Holly Madison, enjoying Dom Pérignon at Jet nightclub at the Mirage in Las Vegas for marketing director Steven Lockwood's Industry Cheer Bowl party.
BOY HOWDY: Pete Wentz and his Fall Out Boy bandmates, celebrating the launch of the newest location of Wentz' bar Angels & Kings Barcelona at the ME Barcelona Hotel.
BUMPY RIDE: Tyra Banks and two close friends, riding the roller coaster at the New York-New York Hotel & Casino.
SOMETHING FISHY: LL Cool J and his wife, munching on lobster ceviche and sea bass anticuchos at Sushi Samba Park restaurant in New York City.
SINGING FOR A CURE: D. Woods, performing a solo at the Lyric Culture I Will Survive event at Blue Genes boutique in Atlanta, to raise money for City of Hope Breast Cancer Research.
BREAKFAST BUDS: Tom Bergeron and Greg Grunberg, grabbing some early morning grub at the Corner Bakery in Calabasas, Calif.
A TOP-SHELF SOIRÉE: Aubrey O'Day, Andrew McCarthy and Gossip Girl's Matthew Settle, chatting it up in the Grey Goose VIP area at the Conde Nast Traveler Readers' Choice Awards in New York City.
ACCORDING TO GYM: Shane West, working out his lower body at 24-Hour Fitness at the ArcLight in Hollywood.
COMING UP
MONSTER MASH: Chris Kirkpatrick, Lance Bass and Joey Fatone are expected to attend the Halloween-themed Mask Car AID Bash fundraiser in Orlando on Oct 24.
PARTYIN' WITH PERRY: Katy Perry is expected to celebrate her birthday with A Rose of Thanks and the guests at the Gravediggers Ball at Dixie's Tavern in Charlotte, N.C. on Oct. 25.
—Written by Dahvi Shira with additional reporting by Claudia Rosenbaum and Natalie Finn. Marc is in Europe running the marathon in Amsterdam