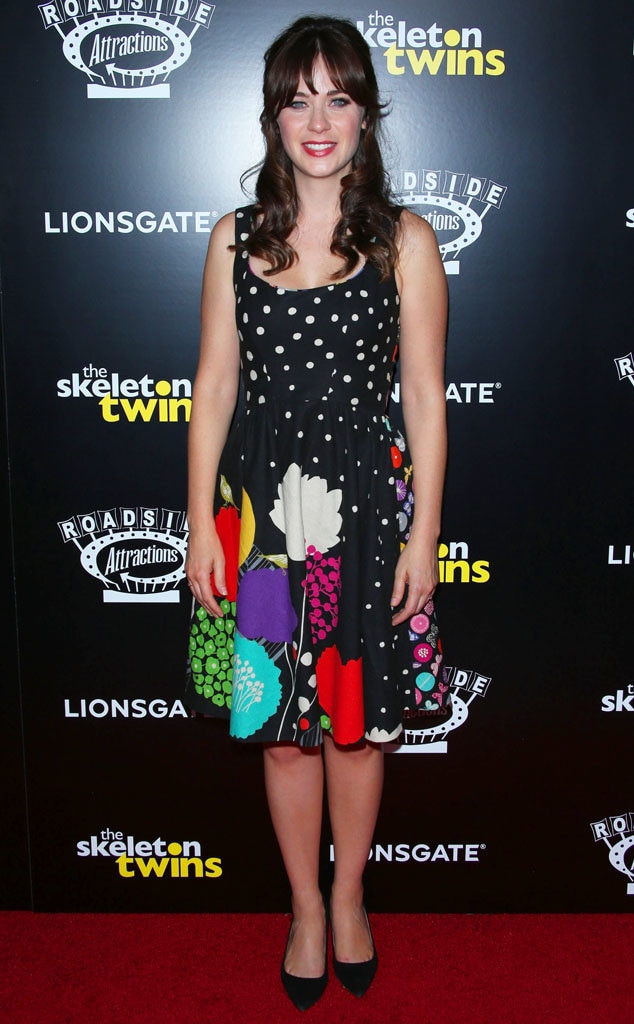 Mark Davis/Getty Images
Who's that girl? It's Jess—not Zooey Deschanel.
The pregnant New Girl star recently spoke to the Huffington Post about her character's "adorkable" persona—one that she personally doesn't identify with.
"That was something that was calculated, you know what I mean?" she said of the term, coined in 2011 to promote New Girl's premiere. "That was our marketing department at Fox and they did a really good job with our first season, but that's a word that describes the character that I play, not me. I don't personally have identification with that word myself."
"In addition, I don't really care what people think of me," added the 35-year-old actress. "I know that sounds crazy because you're supposed to care about what people think of you, I guess, as an actor, but I really don't. Obviously I'm grateful for all of the opportunities that I've had thus far, including New Girl, but I don't think I've ever met a person who knows me use that word to describe me, so it's not of any consequence to me."
Soooo, Zooey doesn't like being called "adorkable" IRL—duly noted.
The mom-to-be did seem to enjoy taking a break from the quirky, twee, cutesy character she portrays on New Girl for her role in The Driftless Area, an indie film adaptation of Tom Drury's novel. "It's nice to be able to do something different from what I've been doing for the last five years on TV," she told the Huffington Post. "It used to be that I'd play a lot of different characters, so it's nice to get the opportunity to do something really different too, because of how much playing one character—as fun as it is—is kind of the same thing every day. It's nice to get to stretch."
Soon she'll be taking on another new role, her biggest to date—mom! The first-time parent-to-be recently revealed on Jimmy Kimmel Live! that she and fiancé Jacob Pechenik aren't finding out their baby-to-be's gender before he or she is born. "We are going to be surprised," she explained. "It's more fun, you know? Make it into a game."
Fun, right? Absolutely, but not everything about expecting is so entertaining. "You can't eat so many things when you're pregnant," Zooey lamented to the late-night host. "You can't have sushi. You can't have cheese that tastes good. You can have a little bit [of coffee]. I would have like four cups a day, and now I can have half a cup, which is a total joke. A total joke! You can't have alcohol. I miss that. I like wine."
Especially pink wine? The kind that makes you "slutty"? Nope, don't get confused—the always "adorkable" Jess likes that, not Zooey!