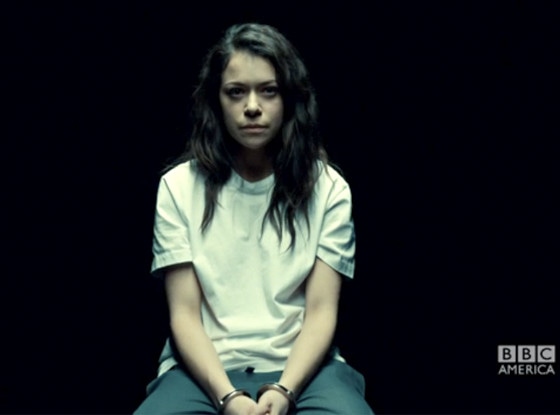 BBC America
File this one away under news that makes us go, "Noooooooo!"
The good news: our favorite TV obsession, Orphan Black, just returned to us this past Saturday for its super dark and crazy season three premiere. The bad news: it turns out we're going to have to say goodbye to the BBC America cult hit series a lot sooner than we thought, and we're pretty much in denial about it.
When E! News caught up with Orphan Black co-creator John Fawcett to talk all things Project Leda and Project Castor, he dropped a major truth-bomb about his and Graeme Manson's plans to end the series in just two more seasons. How are we supposed to go on living without five different versions of Tatiana Maslany on our screens?! Answer: we can't.
But we're going to have to learn how, and quickly.
"The series is mapped to a large degree, in that there is always room to move and work organically, but we are working towards a five season story," Fawcett tells E! News. "We will arrive at some kind of end destination by the end of season five."
And this is where we started crying (on the inside...and the outside, just a little bit): Fawcett reveals that, as of now, there are no plans to continue the sci-fi show for a sixth season.
"I think we want to wrap this story up by the end of season five," Fawcett says. "And then if there are still a lot of fans and a lot of desire to see this show after that, I think there would be some reinvention necessary or some kind of new spin. I don't know what that is or could be. I'm not really thinking about that right now, I'm just thinking about trying to get this story told in five seasons."
And if you're thinking, "Hey, we only just started season three, there's still so much time until season five!" then get this: we're actually going to get hints as to how the series will wrap up as soon as the end of this season. Ahhh!
"By the end of season three, there are a couple of bombshell reveals that will push us towards season four and season five," Fawcett says.
Start forming your Orphan Black series finale support groups now, people...the end is coming very, very soon. And we are so not prepared for it!
At least there's a tiny bit of good news here: since the series finale has been planned from the start, it doesn't run the risk of disappointing fans when it finally airs—like some other long-running series that we won't name here. Ahem. (We named them in our roundup of the best and worst TV finales of all time gallery below! Hey, we never said we were perfect...)
Orphan Black airs Saturdays at 9 p.m. on BBC America.