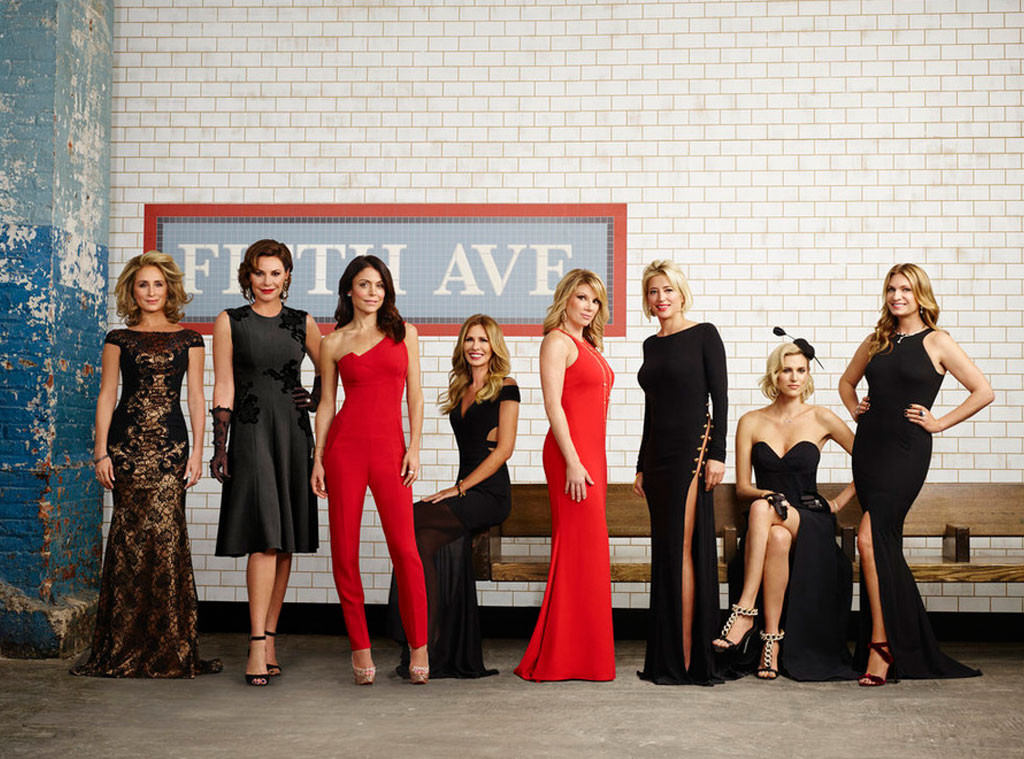 Mathieu Young/Bravo
The Battle of the Brunches continued on tonight's The Real Housewives of New York City with Carole Radziwill, Countess Luann de Lesseps, Heather Thomson and Kristen Taekman caught in between Bethenny Frankel on one side and Ramona Singer (with a side of Dorinda Medley and Sonja Morgan) on the other.
It was an episode full of random moments, emotional scenes, Kelly Bensimon, Sonja flirting with a 20something model and Bethenny struggling to adjust to life amongst the Housewives again. So business as usual.
Best product placement: Bethenny for her Skinnygirl kitchen. She even gave the ladies products: Carole walked out with a blender! This was just the first part of the Battle of the Brunches, the next stop was for Ramona's brunch, which they were all late to. The blondes weren't happy.
Strangest excuse: Countess Luann thought Bethenny and Ramona's bad blood stemmed for an incident involving Ramona borrowing a dress from Bethenny's now-defunct talk show. Bethenny said nah, but did reveal that Ramona said she never returned the dress because it fell out of her car, yet it appeared again weeks later in an Instagram post from Ramona with her daughter Avery. I kind of hope this dress thing becomes a thing—Dressgate?—but Bethenny seems to be over it.
Realest moment: Ramona invited the Countess over for some seafood salad and they actually acted like humans. Humans with emotions! "It felt kind of weird to be in her living room, having her pour her heart out to me," Luann said, but ultimately appreciated Ramona's candor. "It's rather humiliating," Ramona said of Mario's very public infidelity, "that's the reality. That's the sad part."
Best flashback: Scary Island when Bethenny yelled at Kelly to go to sleep. It never gets old.
Saddest flashback: Morocco when the psychic told Ramona there was another woman in Mario's life.
Cheer-worthy moment: Dorinda scolded her boyfriend for answering a work call while they had lunch. She then got on the phone and told the person on the other line why she was making her boyfriend hang up. Good for you, girl. Has he ever heard Countess Luann's classic line in "Money Can't Buy You Class"? "And the primary mistake of a texting on a date, if you make a lady wait she'll take a pass."
Most uncomfortable scene: Everything at Beautique: Bethenny seeing Kelly again—her relationship with Kelly can be "boiled down to a lovely, faux European double kiss." Ramona dancing with the random men. Sonja getting cozy with that model. Dorinda's boyfriend showing up without her!
Best lines: "I'm a class act"—Ramona
"Just get off my jock."—Bethenny regarding Ramona
"I just listened to these old bitches fight the whole time."—Dorinda describing the brunch with Sonja and Ramona that all the other ladies were late to.
"Ugh, really? Kelly Bensimon? That is so 2000 and who cares." —Bethenny
The Real Housewives of New York City airs Tuesdays, 9 p.m. on Bravo.
(E! and Bravo are both part of the NBCUniversal family.)