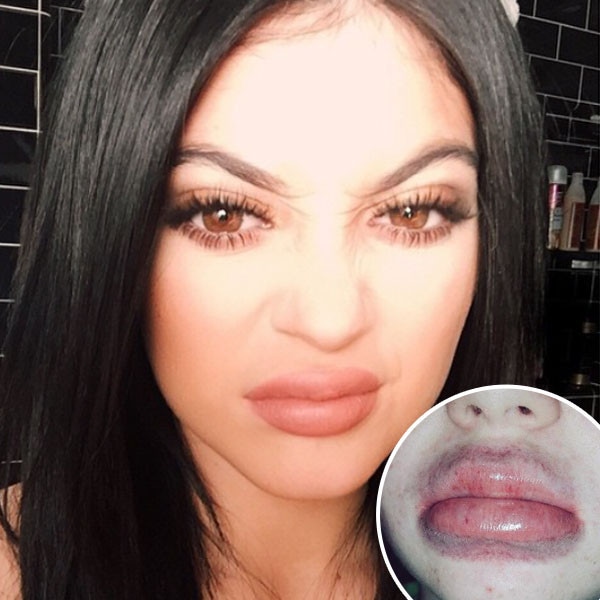 Instagram, Twitter
Dolls, get it together: You're doing the #KylieJennerLipChallenge all wrong.
Kylie Jenner's perfect pout is the result of genetics and lip liner—not sucking a shot glass or a bottle until your blood vessels burst. It seems, though, that trying-to-be-trendy teenagers are confused: Bruised isn't beautiful, swollen isn't sexy, and documenting ill-advised DIY face modification on social media is a bad idea.
But if you explore the #KylieJennerLipChallenge hasthag on Twitter, tumblr or Instagram, you'll see an embarrassing number of young women and men doing potentially irreversible damage to their fresh faces in the name of beauty.
"The new trend in trying to DIY lip plumping is quite concerning,"  Dendy Engelman, a dermatologic surgeon, tells Seventeen. "Not only can significant pain, swelling, and bruising result from these suction techniques, but there is potential risk for scarring and permanent disfigurement with repeated attempts."
Cosmetic surgeon Pordiis Kjartansdottir warns against taking the #KylieJennerLipChallenge as well, telling Metro U.K., "I can definitely say that this would be dangerous even just to try it, and especially somebody does it more than once."
"The lips turn blue because blood fills up and they could easily become infected and lose all sensation," adds Dr. Kjartansdottir. "It is a really dangerous stunt and I'd advise strongly against anybody trying it."
Yeah, just don't. And FWIW, Kylie herself has nothing to do with this freaky phenomenon. Line your lips like crazy, but don't deform yourselves, dolls. Cosmetics are your friends, but cruel Internet crazes are not.