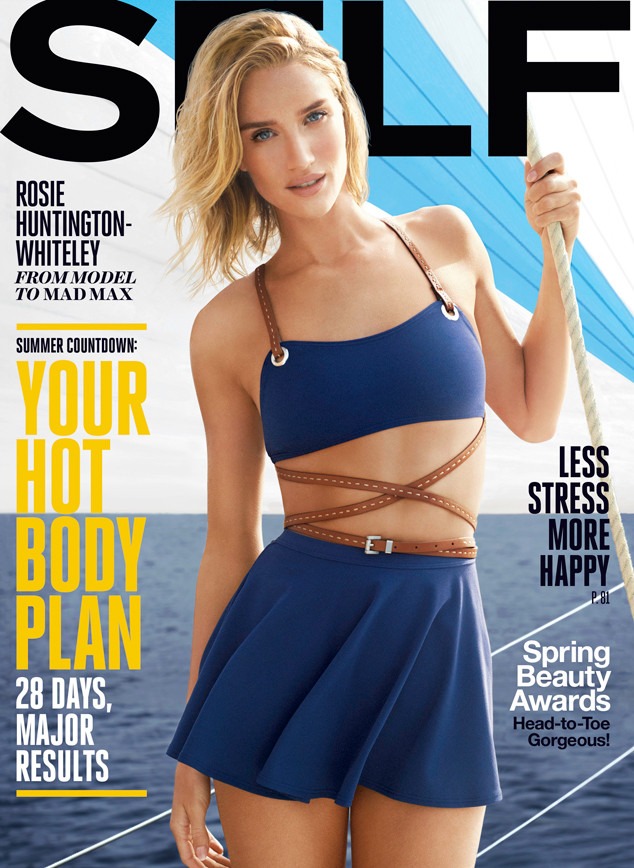 Self Magazine
Rosie Huntington-Whiteley is gracing the latest cover of Self magazine!
For the cover image, the 28-year-old model shows some skin in a sexy blue skirt and matching crop-top that highlights her midriff and thin frame. The Brit beauty lets her blond hair blow in the wind while posing on a yacht with the ocean in the background. We can't help but notice Huntington-Whiteley's gorgeous blue eyes match the picturesque sea behind her.
For the inside photo spread Huntington-Whiteley models a blue and yellow swimsuit while getting her hands dirty manning the vessel's sails. She also sports black wetsuit bottoms paired with a tiny blue bikini top.
Huntington-Whiteley gushes over her longtime boyfriend Jason Statham in the accompanying interview. "We're best mates," she told Self. "He makes me laugh every day. I almost feel like I never had a proper boyfriend before!"
The model turned actress also opened up about spending six months filming the upcoming action flick Mad Max. "You have to be fit and healthy and strong. Your mind has to be strong, too. Not only for the stunts but also for the number of hours you're spending on-set," she dished.
As for the future of her career, Huntington-Whiteley revealed, "I don't always want to be the face of everything. I think you have to take risks in life and scare yourself. You have to push beyond your comfort zone in order to grow."