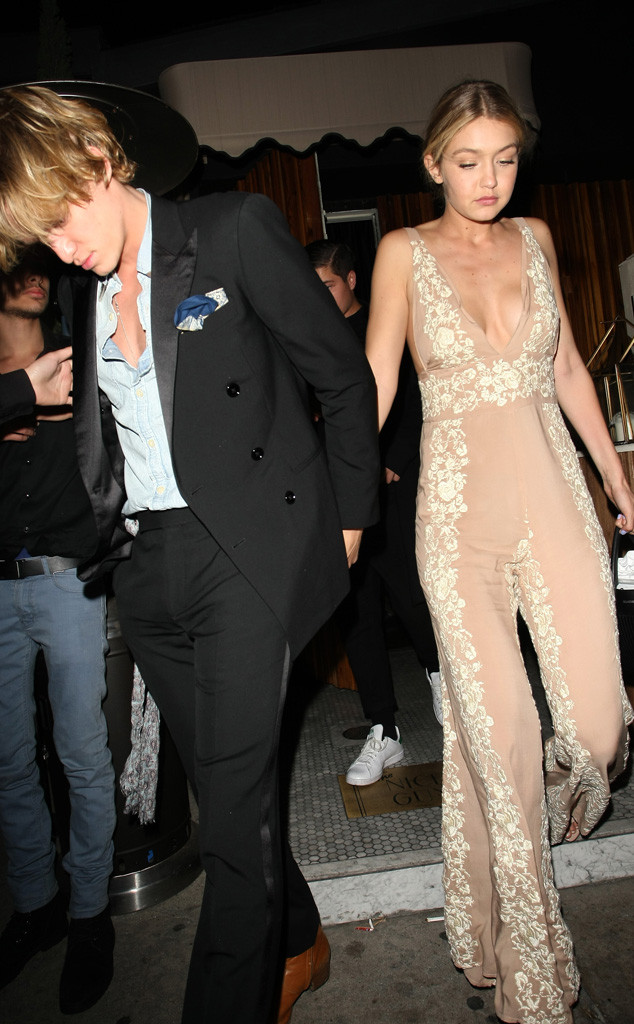 Splash News
It's never too early to celebrate a birthday!
Almost one week before turning the big 2-0, Gigi Hadid was treated to a very special dinner party with friends, family and boyfriend Cody Simpson.
E! News has learned the festivities took place at The Nice Guy in West Hollywood, Calif., Friday night from 9 p.m. all the way to 2 a.m. A source called the evening "very private" with just a few BFFs and family members present.
Some attendees documented the celebration on Instagram with the hashtag #OMGigi. With a little searching, it appears Cody's sister, Alli Simpson, along with Gigi's brother, Anwar Hadid, and dad, Mohamed Hadid, were all in attendance.
Giant balloons that spelled out "Gigi" filled the room as guests enjoyed a tasty birthday cake and a photo booth. The birthday girl herself wore a embroidered jumpsuit by Blue Life for the occasion. 
As for what the supermodel asked for in honor of her special day, it turns out she wanted some tasty McDonalds gift cards. But before you think she's eating Big Macs and Chicken McNuggets every week, she's actually hoping to use the certificates for good.
"For my bday I asked for @McDonalds (or other food) gift cards to keep in wallet to give to those I pass on the streets of NYC & elsewhere that are in need of a meal," she wrote on social media." I don't always carry cash & it's nice to know it'll be put to good use. Thanks @CodySimpson for the first batch!!!" 
And as Gigi prepares to turn another year older, her relationship with Cody is only getting stronger. Despite busy schedules that take both parties all over the world, this couple is in it for the long haul.
"We definitely make it work," he shared on HuffPost Live. "We see each other more than you would expect because we're dedicated to making it work and it's not too stressful."
Happy early birthday, Gigi! Can't wait to officially celebrate Thursday.
—Reporting by Baker Machado