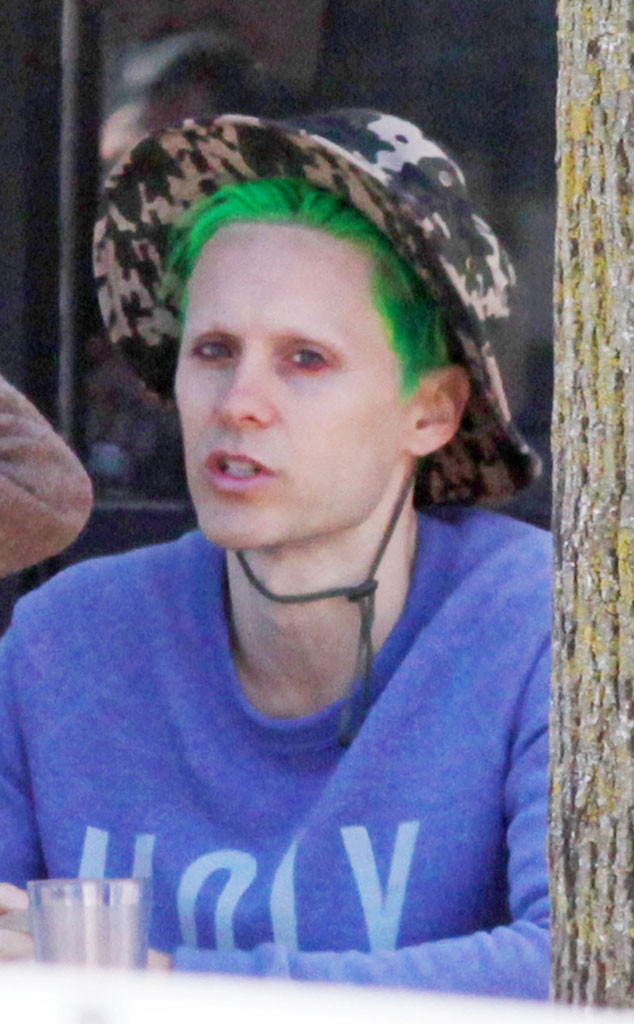 PacificCoastNews
Green hair, don't care!
Jared Leto was photographed on the set of Suicide Squad in Toronto over the weekend looking basically unrecognizable as he prepares to play the part of the villainous Joker in the highly anticipated flick.
Instead of his long, luscious locks, the 43-year-old actor was snapped with short, bright green hair and no eyebrows as he prepped on set. The Oscar winner went casual in a blue sweatshirt and a camouflage hat as he chatted with crew members Saturday. We also couldn't help but notice Leto is looking very pale for the film.
In addition to showing off his dramatic movie makeover, the 30 Seconds to Mars rocker was also caught showing friends a digital photo of his complete Joker costume, which is the first time we've seen the final product of him in character. The pic of the rendering is currently floating around fan sites and Twitter.
Earlier this month, Leto gave fans a sneak peek at his Joker makeover with a super-creepy selfie that featured him with his bright green hair and red lips. And days before that, he teased a similar Joker makeup selfie with the caption, "Who is the hell is jared leto?"
In February, Leto told Billboard he was "trying to gain a lot of weight" for the role. (In March, he also cut his hair.) "The opportunity to take on this nearly Shakespearean character—that's what graphic novels and comic books are becoming, right? [He's] this beautiful disaster of a character—what a big challenge," Leto said.
Suicide Squad, which also stars Will Smith, Margot Robbie, Jai Courtney, Cara Delevingne and Joel Kinnaman, is set to hit theaters Aug. 5, 2016.