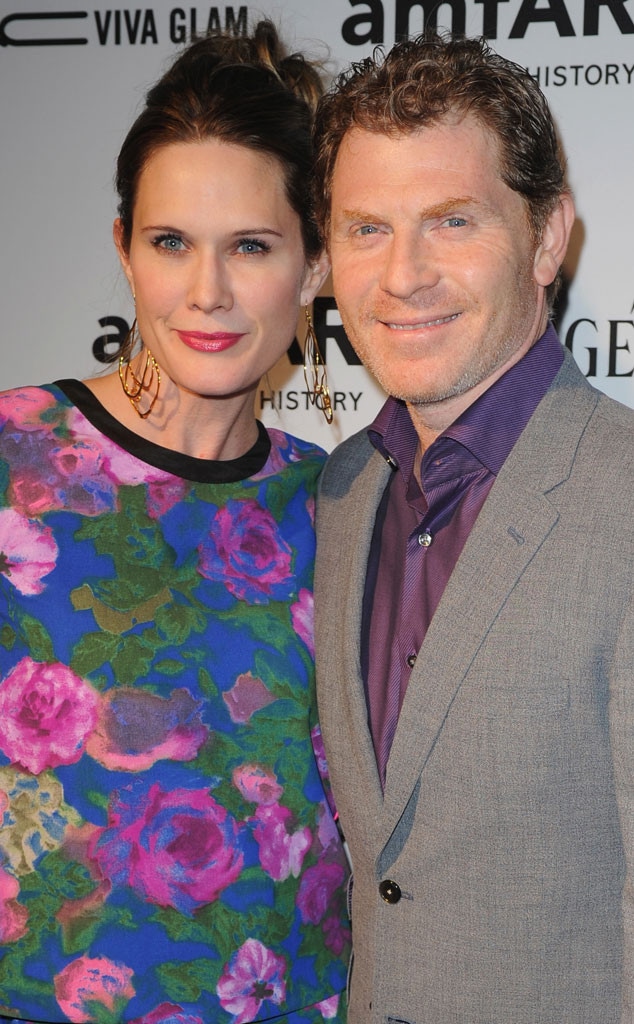 Larry Marano/Getty Images for amfAR
Did Bobby Flay have an extramarital affair with Elyse Tirrell?
The New York Post's Page Six reported Sunday that the Food Network star, 50, had cheated on his wife Stephanie March, 40, with his assistant, 28. The allegation came 10 days after Flay and the Law & Order: SVU star separated and nine days after Flay filed for divorce. March's lawyers have challenged the couple's prenuptial agreement, under which Flay is to pay her $5,000 a month. The former couple has been married for 10 years and they have no children together.
Tirrell worked at Flay's restaurant, Bar Americain, before becoming his assistant.
So, what did Flay have to say about the alleged affair?
"We will continue to refrain from responding to the continued efforts by certain parties to spread rumors and innuendo," Flay's rep told E! News in response to the report that the restaurateur and Tirrell had a secret three-year relationship. "This specific allegation was in a letter sent from one attorney in this case to the other. It was written and then leaked specifically to try to insert this story into the press, and that's unfortunate. Even more unfortunate is that all of this is being done in order to renegotiate a pre-nuptial agreement that was agreed to over a decade ago and never amended during the marriage."
Actress/writer Maia Madison claimed March learned of the alleged affair sometime after Thanksgiving in 2014. "She came to my house and was sobbing uncontrollably. She said, 'I can't believe the last 10 years of my life have been a lie,'" she told Page Six, adding that Flay tried to make amends with March.
Flay's business partner Laurence Kretchmer defended his friend. "Bobby has a rule that when people talk crap about him he doesn't respond. I've been in the middle of this relationship for 14 years, and he did everything he could to save his marriage," he told Page Six. He also defended Tirrell, saying, "Elyse is a great and valued employee and it is awful to see her dragged into this thing. If she had an affair with Bobby it would have been reported to me. That has never even been suggested, and people like to talk. Have Bobby and Elyse been seen together? Yes, that's her job. None of this has any basis in reality."
E! News has also reached out to March's rep for comment.
According to Page Six, Tirrell could not be reached for comment.