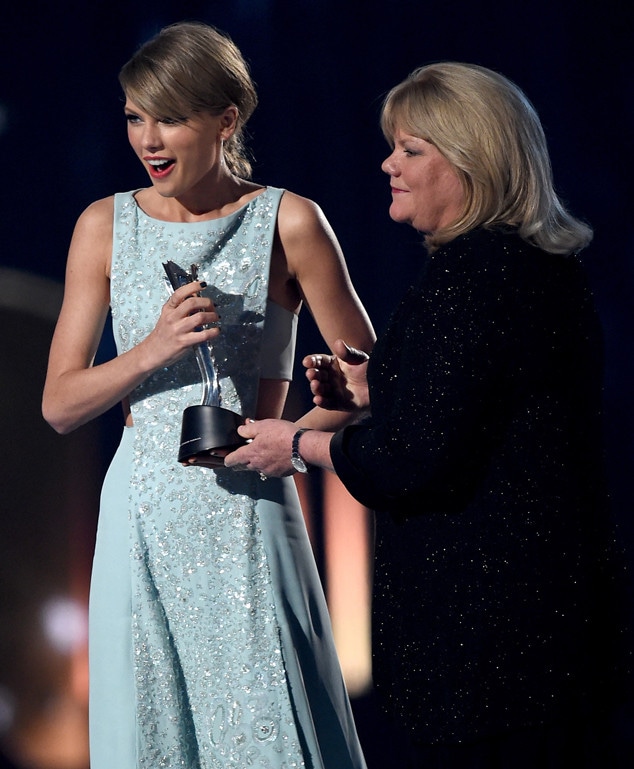 Ethan Miller/Getty Images for dcp
We need more tissues.
Taylor Swift was one of seven honorees for the Milestone Award tonight at the 2015 ACM Awards, but nobody was expecting such an emotional introduction. The singer's mother Andrea Swift, who just recently revealed she's been diagnosed with cancer, was front and center to present her daughter with the award.
Walking in to a room of roaring applause, Andrea says, "I've watched this milestone artist from the time she was a tangled-hair little girl...Full of imagination and creativity until right now when she prepares for her next world tour."
She continues to share that Taylor's "favorite thing to do is to write a song, tell a story, play guitar or piano, and I've seen those things carry through her every emotion, every experience in her life, good or bad," adding that sometimes her family is the inspiration.
As the tears begin to well up in Andrea's eyes, she simply states, "I am a very proud mom," and calls Taylor to the stage to receive her award.
"Somebody once told me that you truly see who a person is when you tell them something you don't wanna hear," the young singer begins, and explains that the warm welcome she got after transitioning to pop music is something she'll never forget.
"You showed me who you are with the grace that you accepted that with," she says, and concludes with, "I'm so unbelievably proud that I learned to treat people with kindness and respect through country music."
Watch the entire heartfelt exchange above.
Photo by Ethan Miller/Getty Images for dcp