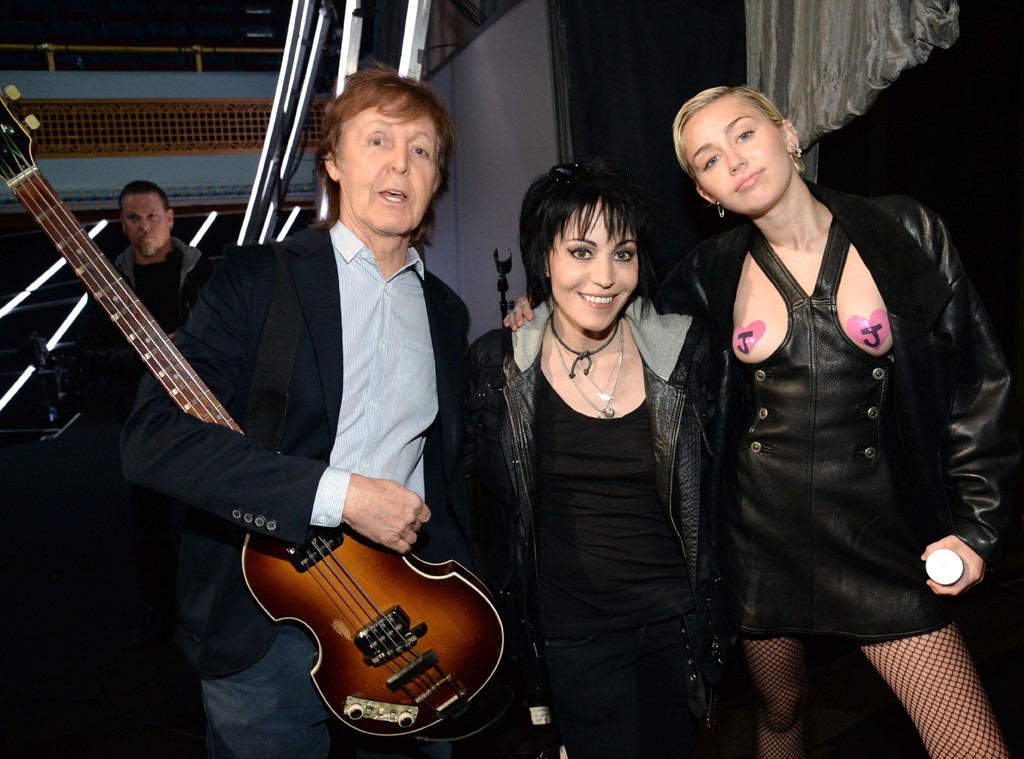 Kevin Mazur/WireImage for Rock and Roll Hall of Fame
Kicking things off with a bang!
When Miley Cyrus appeared on stage for Saturday night's Rock and Roll Hall of Fame induction ceremony, nobody knew exactly what to expect. As it turns out, the singer decided to just be Miley in more ways than one when welcoming Joan Jett into the prestigious music club.
"I'm going to start off this induction with the first time I wanted to have sex with Joan Jett," the "We Can't Stop" singer proclaimed in front of a packed house at Public Hall in Cleveland. "We were in her bathroom, and we were smoking and just talking, and this was one of the moments in my life where I wanted to be as present and absorb everything that she said to me."
She continued, "I listened to her talk about her days with the Runaways. She talked about music…I was getting to have this moment with someone that, to me, is superwoman. What superwoman really should be."
Mike Coppola/Getty Images
Perhaps that love and admiration is what made Cyrus a deserving choice for the ceremony that also featured a performance from Jett including her classics "Bad Reputation" and "Cherry Bomb." The event will air as an HBO special May 30. 
For Cyrus, who also performed a cover of Tommy James & the Shondells' "Crimson & Clover" with her idol Saturday night, the speech really was a time to pay tribute to an artist she continues to love and respect.
"There was so much that I could say and she just had her life in music that is rare," she explained via Rolling Stone. "She's had a career that's decades long. She's been the first of many things and not just as a woman, but just as a badass being on the planet."
While Billy Ray Cyrus has introduced his daughter to a wide variety of artists over the years, it's Jett that may have made the most impact on the former Hannah Montana star.
"There isn't one other person on this planet that's been an inspiration to me like you have. Joan's music, her activism, who she is. In all of our lives, all of us are going to experience people who try to tell us who to be and what to be. F--k those people!" Cyrus proclaimed while donning at least three outfits throughout the night. "Instead of changing for all those people, if you don't like how the world is, change it yourself. She made the world evolve, her life and her success is proof that we can self-evolve."
She added, "I want to thank you for fighting for our freedom, Joan, and I love you so much. "
Other inductees at the ceremony presented by Klipsch included Green Day, legendary former Beatles drummer Ringo Starr, Bill Withers as well as late music stars Stevie Ray Vaughan and Lou Reed.