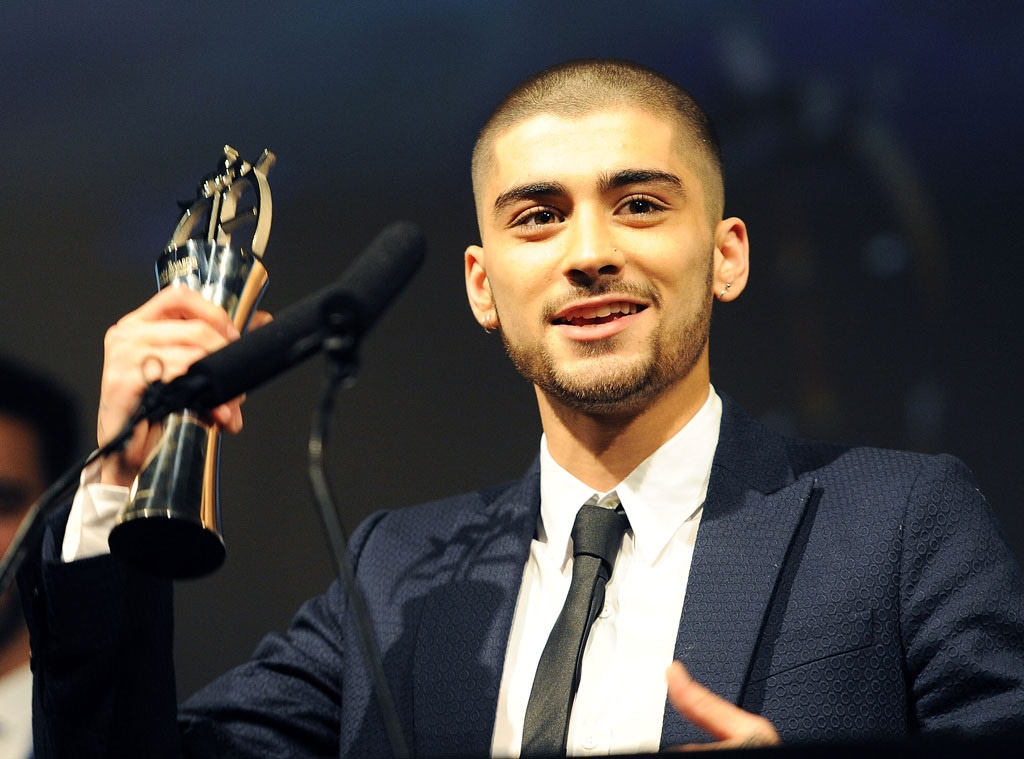 Dave J Hogan/Getty Images
Zayn Malik thanked his former One Direction band mates in a heartwarming speech at the 2015 Asian Awards in London on Friday in what marked his first major public solo appearance since his departure from the pop group was announced three weeks ago.
Sporting a newly shaved hairstyle and a new nose ring, the 22-year-old pop star, who was born to an British mother and British-Pakistani father, was honored for Outstanding Achievement in Music at the annual event, now in its fifth year.
"I'd like to thank my mum and dad for making me Asian," he said in his acceptance speech, drawing laughs, as seen in a video posted by Now magazine. "I'd also like to take this moment to thank four of the best guys that I ever met whilst being in the band and doing all the amazing things that I did. Some of the things that we did will stay with me for the rest of my life."
"Here's to the future," he added.
Malik attended the ceremony with his mother, Trisha Malik.
Simon Cowell, who helped form One Direction on The X Factor singing competition series in 2010 and heads Syco music, the group's record label, recently spoke on The Late Late Show about Malik's departure and the band's future. The 55-year-old told host James Corden  36, that he tried to persuade the singer to "should stay around a bit longer."
"And then something in him said, 'No, I've had enough,'" he said. "And then once the decision was made, I dealt with it. Then, obviously, I made sure the guys were OK because they were shocked as well."
Oscar-winning actor Michael Douglas, 70, was sitting quietly next to Cowell as he spoke to Corden and got to weigh in on the One Direction shakeup.
"I heard it was a little more complicated than that," he joked. "My sources tell me there might've been somebody else involved in all of this. Where's Zayn today?"
"What the hell are you talking about," Corden said, laughing.
"I have no idea!" Douglas replied.
"You're a bad boy," a smiling Cowell told him.
The former American Idol judge also said that the group's upcoming fifth album, set for release this year, will be "the best record they've ever made."
Malik is expected to launch a solo career, although he has not announced one officially. Shortly after his exit announcement, he was seen visiting a recording studio.
Cowell had told Sugarscape last week, when asked about the issue, "He's a fantastic singer. Um, look, he's got to get his head together a little bit. He needs some time on his own, as he said, to be a normal 22-year-old, which he's gonna have."
He also remained coy when asked if his label would sign Malik.