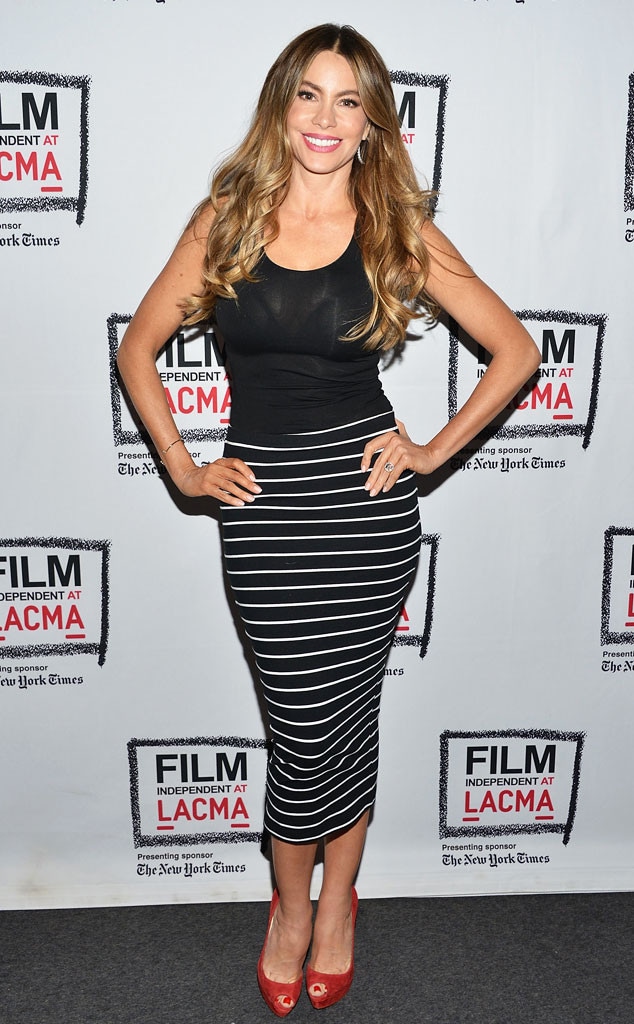 Getty Images
Sofía Vergara is calling foul on ex-fiancé Nick Loeb.
The Modern Family star's attorney says in a statement to E! News that a lawsuit recently filed by Loeb—in which he claimed to be trying to prevent the destruction of embryos they had produced together as a couple—is "uncredible" and holds "no merit."
"Vergara has never wanted to destroy her embryos," says attorney Fred Silberberg. "Attached are consent forms that both Vergara and Loeb signed in November 2013. The highlighted paragraph clearly states that no unilateral action can be taken with regard to the embryos unless both parties consent. Vergara has never suggested that she wished to have the embryos destroyed. She has always maintained that they be kept frozen, a fact of which Loeb and his counsel have always been aware, despite Loeb's statements to the contrary.
"Vergara, who has happily moved on with her life, is content to leave the embryos frozen indefinitely as she has no desire to have children with her ex, which should be understandable given the circumstances."
Section C of the consent form, a copy of which was provided by Silberberg, states that "unless otherwise directed by both of us in writing in person...or by notarized letter, the Center shall continue to store the Cryopreserved Material for an indefinite period of time."
Filing as John Doe, Loeb first filed suit last August and then filed an amended complaint on April 1 in L.A. Superior Court. In the documents, obtained this week by E! News, he claimed he was trying to prevent the destruction of two cryopreserved human female embryos made with his sperm and the actress' eggs.
Vergara (referred to as Jane Doe in the suit) "refuses to agree to the preservation under all circumstances," the complaint alleges. The suit further states that the plaintiff was filing anonymously in the "interest of justice."
Per the suit, the couple in question underwent their first round of IVF in spring 2013, and a viable female embryo was implanted in a surrogate soon after. The end result was unsuccessful, as was a second attempt at implanting in a surrogate in April 2013, the plaintiff says. The couple then did a second round of IVF in 2013 with a more "appropriate gestational surrogate," the suit continues, but the couple broke up in May 2014 before either of two new female embryos could be implanted.
The couple were "engaged to be married and created the Female Embryos using In Vitro Fertilization for the purposes of attempting to have children," the lawsuit reads. "However before the Female Embryos could be implanted in the surrogate, the parties ended their relationship. Now [plaintiff] seeks to ensure that the female embryos are not destroyed, but [defendant] refuses to agree to the preservation under all circumstances."
In a statement, Loeb said, "I have always strongly believed that life begins at conception and that every embryo is a life on the journey towards birth. I created these two female embryos with the purpose of taking them to term and not destruction, because I have always dreamed of being a father...I take the responsibility and obligation of being a parent very seriously. Regardless of how life comes to be created, this should have no determination on the rights of either wanting to be or the requirements of having to be a parent."
Vergara herself confirmed in May 2014 that she and Loeb had split up, writing on WhoSay:
"Not that anyone should care, but in order to not give the press the chance to invent crazy and hurtful drama, I prefer to tell my fans personally that Nick and I have decided to be apart. We have been having too many problems with having to figure out how to spend time together and because of my work and now his, it's been getting worse and worse, not fun anymore. We are still very close but we believe this is the best thing for us right now."
Vergara first stepped out with new beau Joe Manganiello that July, and they got engaged in December.
—Additional reporting by Baker Machado