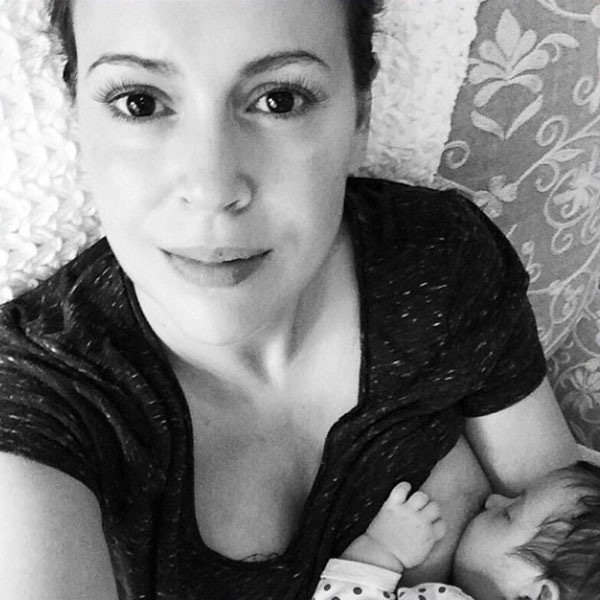 Instagram
Attention all you nursing mothers out there: Instagram has just announced that they are no longer censoring your breastfeeding photos.
The social media platform has finally changed their guidelines after receiving heaps of flak from Instagram users and celebrities around the world.
The new rule states that "women actively breastfeeding are allowed," as well as ladies who are showing "photos of post-mastectomy scarring."
The site added that "nudity in photos of paintings and sculptures is OK, too."
"We know that there are times when people might want to share nude images that are artistic or creative in nature, but for a variety of reasons, we don't allow nudity on Instagram," a statement released today by the photo-sharing site read.
"This includes photos, videos and some digitally-created content that show sexual intercourse, genitals, and close-ups of fully-nude buttocks."
The new changes come months after Alyssa Milano, Jaime King, Alanis Morisette, Doutzen Krous and more documented their breastfeeding moments for all to see.
Earlier this month, the Victoria's Secret model posted a black-and-white pic of herself pumping breast milk and wrote, "Daily routine! I'm promoting breastfeeding, it's the best for your baby when possible! #breastfeeding #breastpump #breastfeedingmom #breastfeedingawareness."
Almost one year ago, Facebook altered their Community Standards policy to allow for breastfeeding pics, and new mamas like Olivia Wilde, Gisele Bündchen and Miranda Kerr supported the move by proudly posting photos of themselves breastfeeding their children. 
"I just think it's important for women to feel comfortable feeding their babies wherever," Milano previously told E! News. "If we're in public, we shouldn't have to go in the bathroom."
She added, "I don't want to eat in a public bathroom. Why should I feed my baby in a public bathroom?"