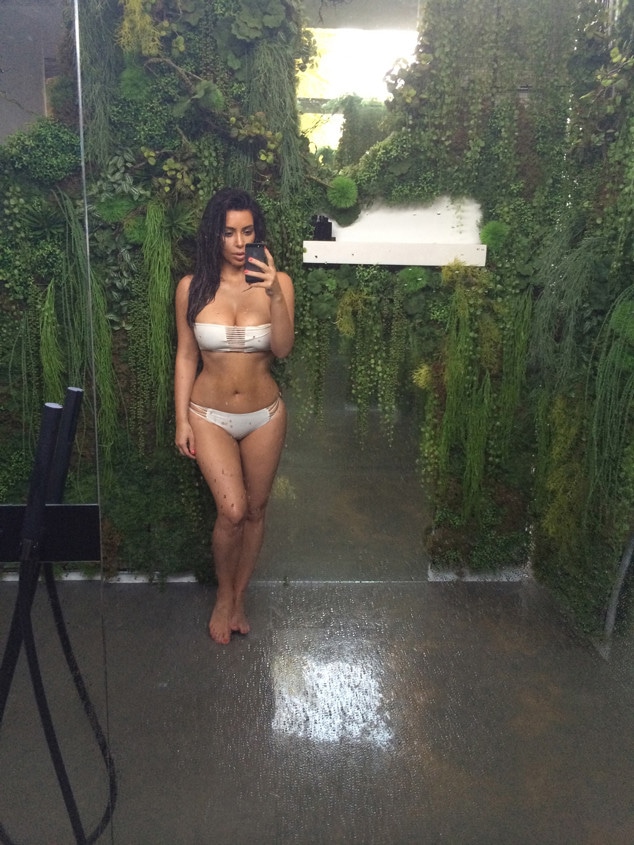 © Kim Kardashian West
Kim Kardashian's selfie book Selfish is hot, hot, hot!
The 34-year-old Keeping Up With the Kardashians star's new book doesn't just include cute family photos, swimsuit shots and travel pics from tropical vacations, there are plenty of completely nude photos of E! star, too!
In addition to flaunting her bare boobs, butt and much more, Kim included her leaked naked photos, which hit the web back in September 2014. Kim explained of why she chose to include the leaked pics, "I wasn't intending to put these in the book but saw them online during the iCloud hack. I'm not mad at them. Lol They are taken with a Blackberry and I don't have iCloud...It's all a mystery!"
Selfish, which hits stands May 5, also features multiple self-taken photos of her bare booty and close-up pics of her cleavage, boobs and nipples. She also models sexy, barely-there lingerie while posing on her knees with her bum in the air.
But X-rated selfies aren't the majority of Kim's new book. The mother of one also snapped adorable pics with hubby Kanye West and daughter North West. She also naturally has tons of glamor shots and even a makeup tutorial on contouring.
Ciara, La La Anthony, Jennifer Lopez, Jonathan Cheban and all of her famous friends make cameos, as do members of her famous fam like Kourtney Kardashian, Khloé Kardashian, Kendall Jenner, Kylie Jenner and brother Rob Kardashian. And let's not forget her most famous frenemy, Paris Hilton! There's a few old school selfies of Kim and Paris from almost 10 years ago.
In the dedication, Kim writes, "The pictures in this book bring back so many memories. Spanning almost a decade, they are only a small fraction of the thousands of selfies we considered for publication. From digital cameras, Polaroids to Blackberries and smart phones, these photo documents the evolution of my selfies. And as I printed them out and laid them on the floor to make a final edit, I reflected on my very public journey as a daughter, sister, friend, wife and mother, this book is a candid tribute to all of my fans, who were with me the entire time."
Tune in to Keeping Up With the Kardashians Sunday at 9 p.m. on E!