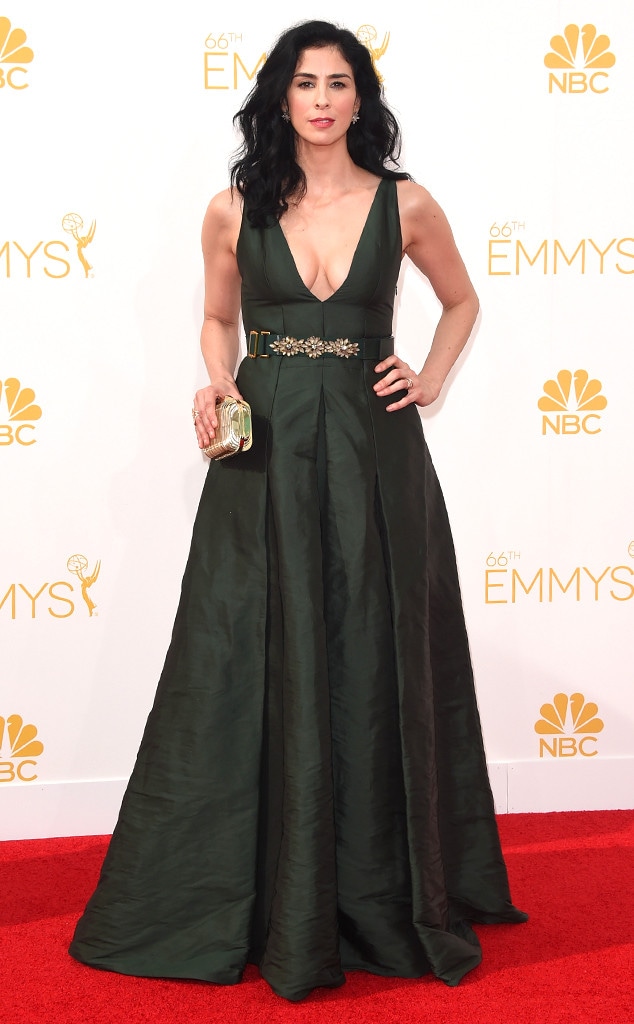 Frazer Harrison/Getty Images
Sarah Silverman has apologized to a male former comedy club owner after insinuating in a PSA about the wage gap between men and women that he did not pay her sufficiently for a show she performed years ago.
Speaking with a sarcastic tone, the comedienne says in an April 6 video posted by the Levo League, a career advice website for women, that Broadway Comedy Club founder and owner Al Martin paid her $10 and a male comedian, current Louie star Todd Barry, $60 for their 15-minute sets.
Speaking sarcastically himself, Martin posted a scathing Facebook selfie video in response to what he said was "Silverman's attempt to slander" him. He said she was a guest performer, while her colleague had been booked in advance, and that she was paid less due to a "talent gap." In her video, Silverman said she was "pretty well known already."
In a statement posted by Salon earlier this week, Silverman, who has promoted equal pay and slammed the wage gap before, said she regrets using his name and that her experience is "HARDLY an example of the wage gap and can only do that very true reality a terrible disservice if I were trying to make it one."
In the PSA, Silverman said she and Barry performed back-to-back sets at the club. She said that after she confronted Martin about her getting paid $10 and Barry getting $60, he told her, "Oh, did you want a $60 spot?'"
In his selfie video, speaking directly to Silverman, Martin said that unlike Barry, she wasn't originally supposed to get paid for her set.
"I felt bad—you were starting to get some stuff on TV and I didn't want to have a bad relation with you—so I decided to give you some cab fare," he said.
My response to Sarah Silverman's attempt to slander me on the internet yesterday...Not as high quality as hers, but I tried to make a selfie video with the FACTS...And to anyone who wishes to share I would be greatly appreciative....

Posted by Al N Carolyn Martin on Tuesday, April 7, 2015
"All I can say is, I remember that story exactly how I said it. I know that Todd called the club earlier in the day to let them know I was in town if they wanted me to do a set," Silverman said her statement to Salon. "I didn't expect to get paid, that's not why I was there, but when I got off stage Al, the sweet club owner, paid me 10 bucks and I signed the payment sheet. I was like, 'Oh, nice.' I inferred from that that this was a paid spot not a guest spot."
Martin said he never asked Silverman to perform that night, but if he did, he would've paid her "what the other comics were getting paid on the show," adding, "It's not a gender gap...but at the time, it was a talent gap."
Martin, a father of three daughters, added that that he'd be upset if the women in his family, including his wife, a teacher, were paid less than their male counterparts at their jobs.
Silverman is among the most famous comedians in the world. Female comics make up a small percentage of the standup comedy community. Unscheduled performers, more often than not, don't get paid anything for comedy sets. For more than a decade, comics' paychecks—and ability to get booked in the first place—typically correlate to their level of fame. By 2000, both Barry and Silverman, a former SNL star at the time, had several TV credits at the time of the incident.
"My regret is that I mentioned Al by name—it should have been a nameless, faceless anecdote and he has always been lovely to me," Silverman said in her statement. "To Al, I truly am sorry to bring you into this as you employ women and pay them the same as the men, I'm sure."
Martin said in another Facebook post published this week that he "fully accepts" her apology.
"It takes a big person to apologize and today Sarah proved she is that kind of person," he said, adding, "My goal in all of this was to clear my name and be able to look at my 3 daughters and wife with my head up high."
"Sarah we have not seen much of you at Broadway Comedy Club," he added. "You are more than welcome to drop in, let's just make sure whether it is a paid or guest spot in advance....Lol.....Al."