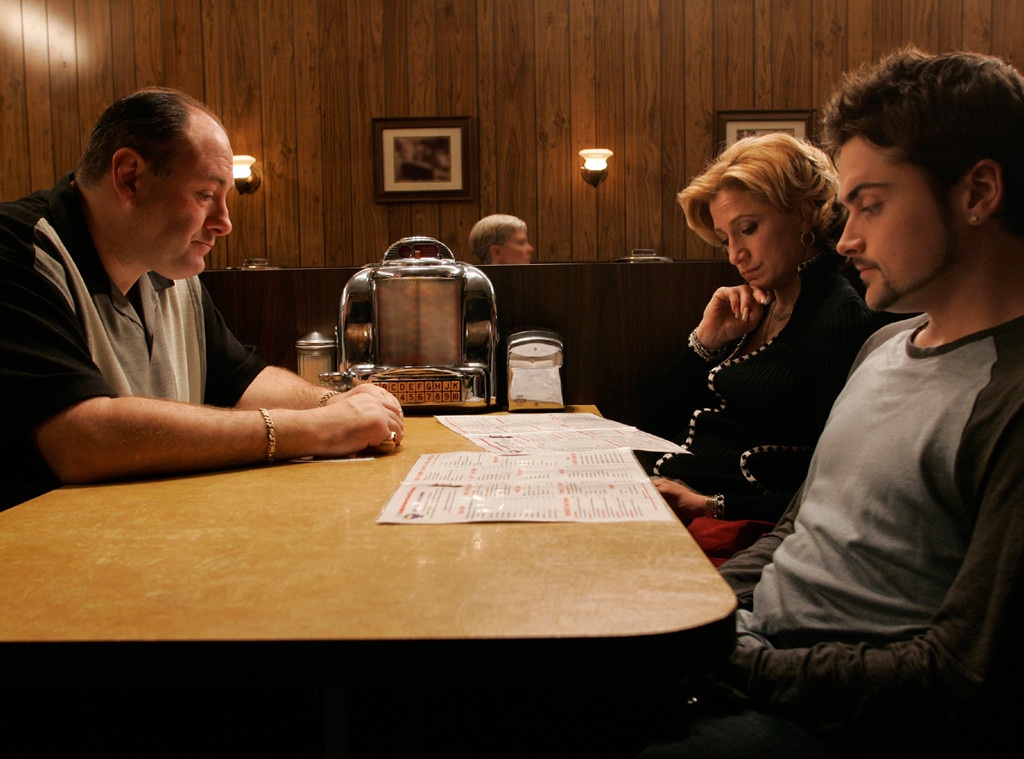 HBO
You remember the ending to The Sopranos. How could you forget? In case you DID forget, it had Tony Soprano (James Gandolfini) waiting for his family in a local diner. Carmela (Edie Falco) walked in. A.J. (Robert Iler) walked in. Meadow (Jamie-Lynn Sigler) parked. Tension built. "Don't Stop Believin'" played. Refresh your memory.
OK, refreshed? Series creator David Chase recently dissected that scene shot by shot and it will give Sopranos fans quite a bit of insight into what the much-discussed ending. But no, there's no definitive answer about whether or not Tony died at the end.
"I said to Gandolfini, the bell rings and you look up. That last shot of Tony ends on 'don't stop,' it's mid-song. I'm not going to go into [if that's Tony's POV]. I thought the possibility would go through a lot of people's minds or maybe everybody's mind that he was killed. He might have gotten shot three years ago in that situation. But he didn't. Whether this is the end here, or not, it's going to come at some point for the rest of us. Hopefully we're not going to get shot by some rival gang mob or anything like that. I'm not saying that [happened]. But obviously he stood more of a chance of getting shot by a rival gang mob than you or I do because he put himself in that situation. All I know is the end is coming for all of us," Chase told the Directors Guild of America magazine, DGA Quarterly.
"I thought the ending would be somewhat jarring, sure. But not to the extent it was, and not a subject of such discussion. I really had no idea about that. I never considered the black a shot. I just thought what we see is black. The ceiling I was going for at that point, the biggest feeling I was going for, honestly, was don't stop believing," Chase said. "It was very simple and much more on the nose than people think. That's what I wanted people to believe. That life ends and death comes, but don't stop believing. There are attachments we make in life, even though it's all going to come to an end, that are worth so much, and we're so lucky to have been able to experience them. Life is short. Either it ends here for Tony or some other time. But in spite of that, it's really worth it. So don't stop believing."
In August 2014, a Vox journalist reported Chase revealed Tony Soprano was not dead at the end of the series. "I had been talking with Chase for a few years when I finally asked him whether Tony was dead or alive," Martha P. Nochimson said in her Vox piece. "We were in a tiny coffee shop, when, in the middle of a low-key chat about a writing problem I was having, I popped the question. Chase startled me by turning toward me and saying with sudden, explosive anger, 'Why are we talking about this?' I answered, 'I'm just curious.' And then, for whatever reason, he told me. And I will tell you. " She then reportedly asked if Tony Soprano is dead and said Chase shook his head "no" and said, "No he isn't."
However, a rep for Chase quickly released a statement slapping down that story.
"A journalist for Vox misconstrued what David Chase said in their interview. To simply quote David as saying, 'Tony Soprano is not dead,' is inaccurate. There is a much larger context for that statement and as such, it is not true," Chase's rep said. "As David Chase has said numerous times on the record, 'Whether Tony Soprano is alive or dead is not the point.' To continue to search for this answer is fruitless. The final scene of The Sopranos raises a spiritual question that has no right or wrong answer."
See more of TV's biggest mysteries in the gallery below.