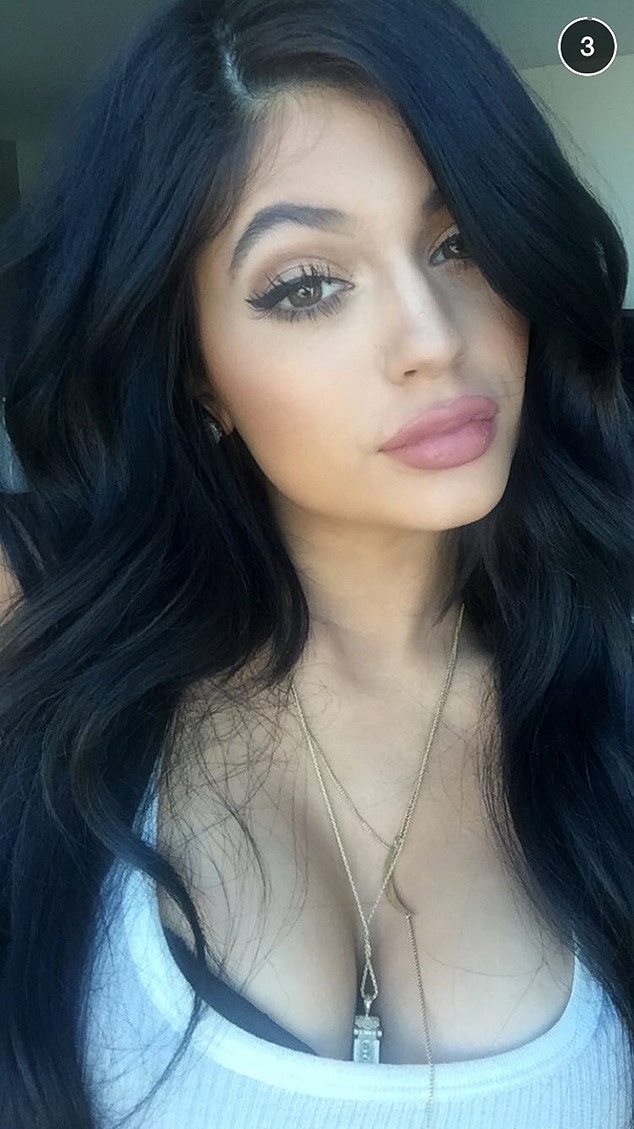 Snapchat
After months and months of speculation regarding Kylie Jenner's lips, the Keeping Up With the Kardashians star is clearing the air.
In an interview with Grazia magazine, the reality star sets the record straight with zero room for misinterpretation. "I'm like, 'Stop talking about my lips,'" she says.
"I haven't had plastic surgery. I've never been under the knife. People flashback to pictures of me when I was 12 and say 'Kylie's so different' but how can I look the same from 12 -18?" she asks.
Kylie, 17, has addressed the rumors before, insisting that it's simply a makeup trick that has contributed to her larger pout over the years. She told E! News, "I love lip liner and over lining my lips. But I don't even care anymore. I'm like whatever, just say whatever you want."
She said on Twitter that the accusations of plastic surgery were "kinda insulting," but she tries not to care anymore. In fact, the 17-year-old has launched her own makeup tutorials to teach others how to get her plumpy pout. "I see all these Kylie Jenner makeup tutorials, hair tutorials so I really want to share with my fans lips colors, this and that and maybe do my own."
When the rumors wouldn't relent, she took to Twitter one more time to slam the hearsay. "How long are we gonna talk about this lip thing lmao," the E! reality star asked her followers. "Let's get our lives together guys and talk about some important s--t. Just talk about something new at least. I'm bored."
Many girls have followed Kylie's lead—and look—when it comes to her lips and hair, which was something she didn't realize was happening until recently! "I never encouraged people to line their lips or wear lip liner, but I like it. It was wild—and the blue hair was pretty big, too," she dished to People.
"Honestly, I feel if I had never chopped my hair off or dyed it blue and it was still the same three years ago, then there wouldn't be that much hype," she added.
She also has tried to silence rumors by posting makeup-free selfies on Instagram that show her natural pout in all of its glory, but people still insist on accusing the Nip+Fab ambassador of a little nip/tuck.
New episodes of Keeping Up With the Kardashians air Sunday nights at 9 p.m. only on E!