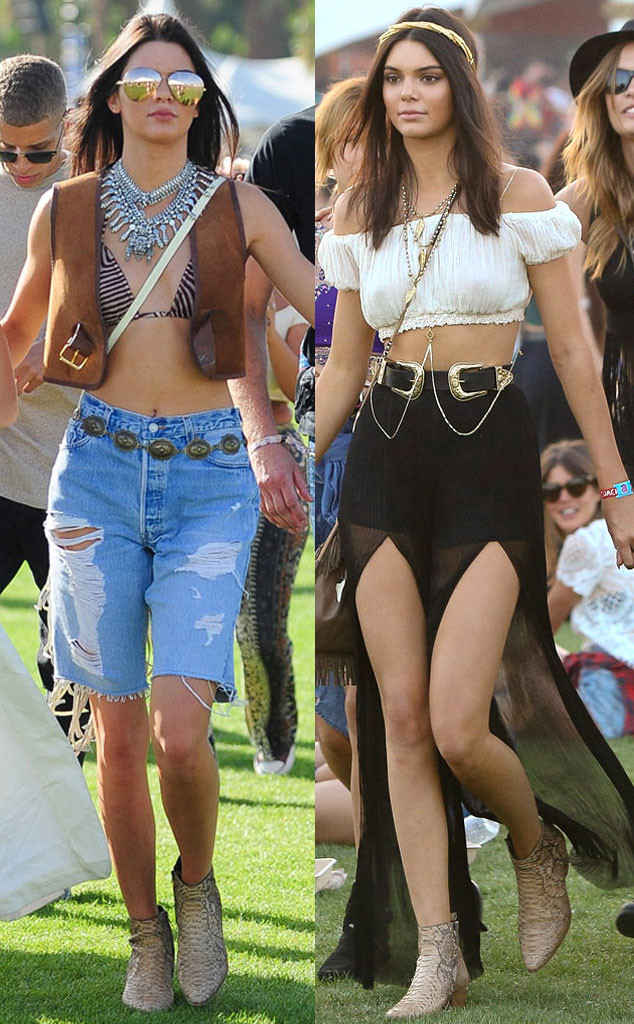 AKM-GSI
Step aside Vanessa Hudgens—Kendall Jenner is Coachella's new reigning style queen.
While truthfully Hudgens did not attend this year's weekend one festivities, we doubt there would've been much competition anyways. The 19-year-old E! star made the drive to Palm Springs to attend the bohemian fête, and crushed the fashion scene in one jaw-dropping look after the next. Don't get too excited though—her entire boho wardrobe rings in upwards of $4,153. But hey, we can still ogle over her looks for free!
For her first 'chella ready-to-wear ensemble, the runway model shed her haute couture digs in favor of a rustic-meets-relaxed look. Aviators on, she opted for a striped triangle bikini top under a western Derek Lam 10 Crosby suede vest, $295. The jury's out on who designed Ms. Jenner's distressed boyfriend shorts, but regardless the loose-fitting number blended flawlessly with the ensemble. 
With a look like this, accessories are a must—and Kendall's heavy silver Dylanlex collar necklace and cuff (not pictured) lend this ensemble an edgy feel. And trust us, the stately jewelry is just as lux as it looks with the necklace ringing in at $710, and the bracelet not far behind at $560. The priciest part of this look, however, is her fetish-worthy footwear: Saint Laurent Python Leather Booties for $1,795.
For round two, Kendall took note from her pal Karl Lagerfeld and put her midriff on display. Styling a delicate golden Alexandra Koumba headband ($325) and gold layered necklaces, the Keeping Up With the Kardashians star slipped into an $88 Jen's Pirate Booty La Vie Crop Top offset by an ethereal pair of Sass & Bide 'soul kitchen' slit pants. And if you confused the dreamy $420 bottoms as a skirt, you're officially forgiven.
Kendall couldn't resist taking her Saint Laurent booties out for another Coachella kick (can you blame her?) and quite literally tied the look together with a B-Low the Belt Double Cowboy Belt for $148. 
Now, while she didn't wear bikinis out on the festival grounds, she did whip out to particularly spectacular swimwear sets while hanging out with her "brat pack" crew. All Mikoh designs, Kendall posted an Instagram snapshot wearing a yellow bandeau Kaui Top with the brand's Velyzland Bottoms, $108 apiece. And making a cameo on pal Justin Bieber's Instagram, Kendall sported a Mikoh LennoxTop and Kihei Bottom, again fetching $108 each.
Wait—was this Coachella, or a pop-up desert runway? Because Kendall's fashion is so en pointe, we really wouldn't know the difference.