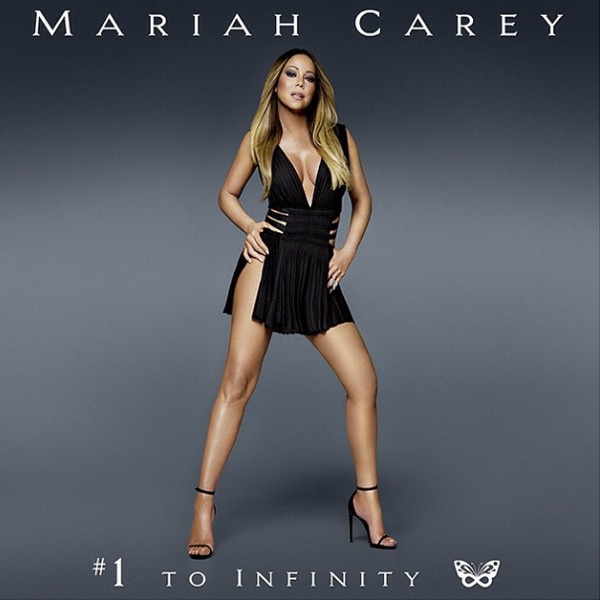 Instagram
Mariah Carey has revealed her newest album cover!
The 45-year-old singer took to Instagram over the weekend the reveal the artwork for her latest studio album #1 to Infinity. In the sexy snapshot, the mother of two looks super-skinny in a low-cut black dress that shows lots of cleavage and lots of leg. Carey rests her hands on her hips as her blond hair frames her face.
"#RevealMariah thank you #lambily for joining the fun & revealing my new album cover! My new album #1 To Infinity will be available for pre-orders tomorrow @ 10am EST on mariahcarey.com! More details to follow! #1toInfinity," she captioned the photo.
Shortly after Carey posted the pic of her looking surprisingly thin, fans quickly took to the comments to call her out for Photoshopping her body to appear skinnier. "Shopped to about half her size..." one person wrote.
Another shared, "I will buy this album. To appreciating you as a legend. Listening your music everyday make me so happy. Dont care about photoshop, you sell your voice, and your not a model not a cover girl, so i dont care about that. You still try to make your fans happy. I love you mariah, and goodluck. :D i hope you come to indonesia again."
Gachie / BleacherC / Splash News
"Can We Please Stop Bashing This Beautiful Singer & Mother Of Twins??? All Models/Singers Have Their Pictures Photo Shopped These Days It's Kinda The Norm. So Can We PLEASE Let This Beautiful Lady/Singer/Mother A Break??? We All Age & Mariah Just Wants To Look Good For All Her Fans. Let's Love Our Girl NOT Tear Her Down Please???" another fan shared.
While Carey's Photoshopping is still up for debate, one things for sure: Her #1 to Infinity cover pose looks strikingly similar to some of her old albums!