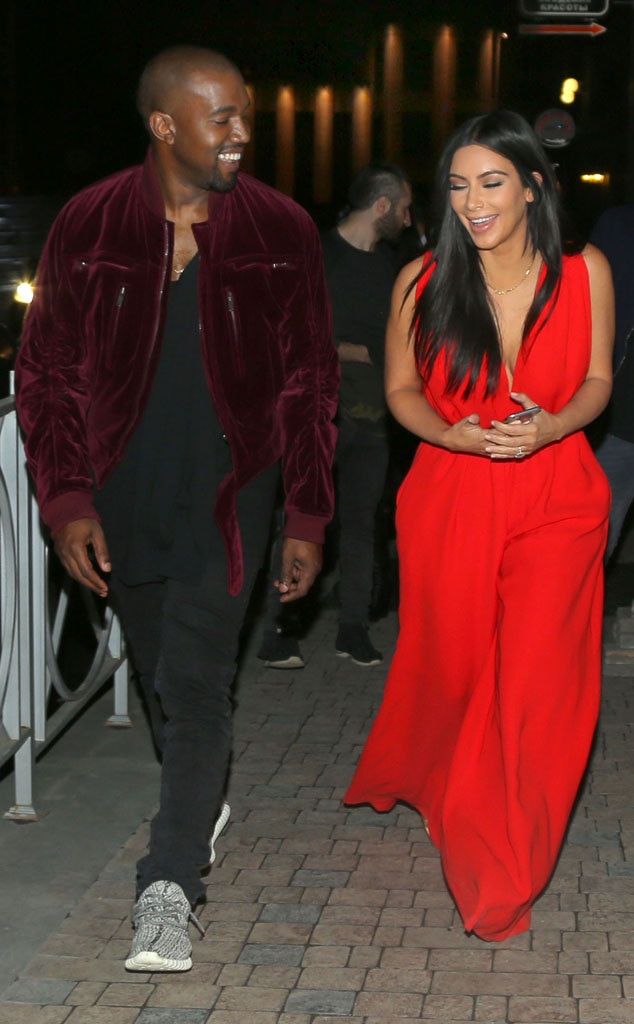 Splash News
The Kardashians are taking the Holy Land!
After spending several days in Armenia, homeland of her late father Robert Kardashians' ancestors, Kim Kardashian and her family jetted off to...Israel!
The group took a direct flight with a private jet and landed at Ben Gurion International Airport near Tel Aviv around 11 a.m. on Monday, E! News has learned. Kim and Kanye West, holding their daughter North West, and Khloé Kardashian were seen exiting the plane. A source told E! News that the group received full VIP treatment upon arrival and will stay at a luxury 5-star hotel in Jerusalem, located near the Old City.
(Pictured above: Kim Kardashian and Kanye West enjoy a night out in Armenia.)
Israeli media had reported in late March that the famous family was set to visit Israel in April. They expected to tour holy sites such as the Western Wall, Judaism's holiest prayer site located in the Old City, the Hebrew-language newspaper Maariv newspaper said.
The wall, which part of the Second Jewish Temple that Jerusalem's Roman conquerors destroyed in 70 A.D, has drawn celebrities such as Madonna, Justin Timberlake and Leonardo DiCaprio, back when he was dating Israeli supermodel Bar Refaeli.
The Kardashians' Israel trip takes place three months after E! News learned that Kourtney Kardashian's boyfriend Scott Disick, who is Jewish, was in talks to buy a $6 million luxury penthouse in a high-rise building in Tel Aviv.
The two did not join the group, which also included cousins Kourtni and Kara and makeup artist Mario Dedivanovic and hairstylist Jen Atkin, on their recent visit to Armenia.
"I didn't end up going to Armenia because it was making me too anxious with three young children," Kourtney said last week.
On their last night in Armenia, at midnight on Monday (local time), Kanye gave a surprise, free concert..and got a little wet.
"What a crazy night! Kanye wakes me up & says he's doing a free concert in Yerevan, Armenia!" Kim said on Instagram. "I throw on sweats & we head out! Thousands of people were there! Kanye jumped in swan lake to be closer to the crowd on the other side & so many people jumped in too! It was such an exciting crazy night! So happy I got to rock out with everyone in Armenia on our last night here!!!! #EpicNight #ArmenianPride."
"I've learned on this trip how many talented Armenian musicians we have!" she added hours later. "What an incredible night!!!! Going to miss it here!!!"
As she settled in on the private jet en route to Israel, Kim managed to sneak in an adorable photobomb.