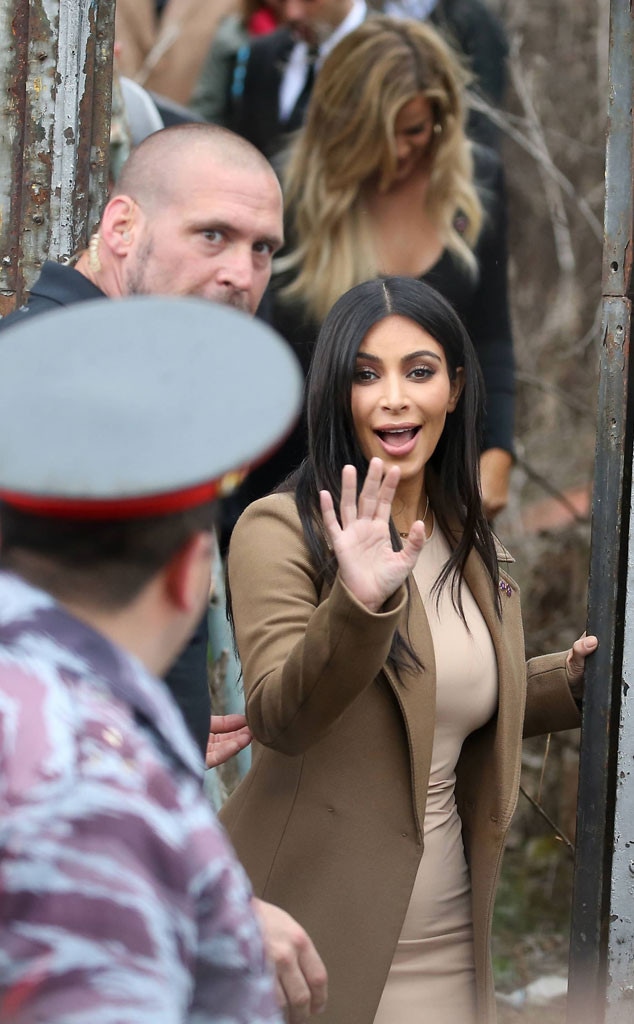 FameFlynet
The Kardashian's family trip to Armenia just became that much more special.
As Kendall Jenner and Kylie Jenner arrived at the Coachella Music Festival in the California desert, big sisters Kim Kardashian and Khloé Kardashian continued their meaningful vacation with a trip to Gyumri, a city outside the Armenian capital of Yerevan.
Armenian records indicate that the late Robert Kardashian's family lived in the historical town. As a result, the group made it a priority to visit their modest ancestral family home.
With rusted metal walls, no roof and piles of debris surrounding the area, the sisters appeared to be moved while exploring the neighborhood with their cousins Kara and Kourtni. Kanye West followed close behind the ladies as he carried North West through the muddy dirt roads.
The latest stop comes as the family continues to enjoy a jam-packed trip featuring important meetings and special tributes. Whether laying flowers down at the Armenian Genocide memorial or meeting with Armenian Prime Minister Hovik Abrahamyab, the trip has certainly made an impression on the ladies.
"Visiting Armenia has been on Kim's bucket list forever," a family insider told E! News when the plans to travel were first announced. "They are all so excited! They want to learn about their heritage."
In fact, when gracing the first ever Armenian Cosmopolitan cover, Kim shared how proud she was of her family roots. "My Armenian heritage means a lot to me," she gushed. "I've been brought up to be incredibly proud of my family's background and culture." 
Brian Prahl / Splash News
Kourtney Kardashian was hoping to make the trip with her children. On Friday, however, the E! star revealed the real reason why she stayed home. "I didn't end up going to Armenia because it was making me too anxious with three young children," she wrote on Instagram. "I do wish that I could have experienced the trip with my sisters but I do know that we will all go to Armenia together someday."
The Kardashian sisters' late father was born to Armenian-American parents and his great-grandparents were ethnic Armenian immigrants from a part of Turkey that once belongs to the Russian Empire.
For more Kardashians, watch new episodes of Keeping Up With the Kardashians Sunday nights at 9 p.m. only on E!