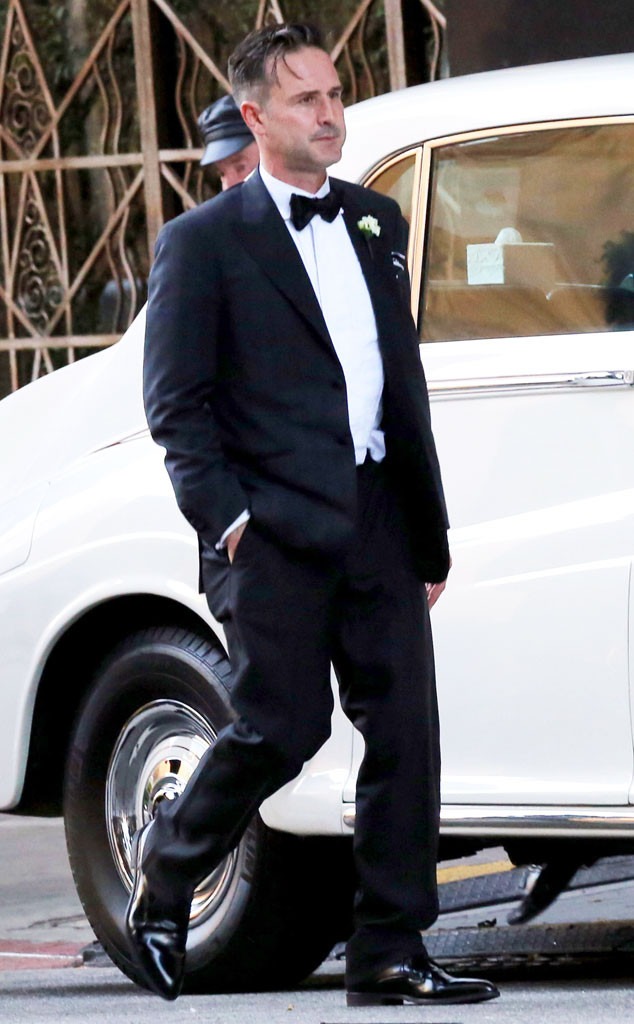 Dmac/4CRNS/FAMEFLYNET PICTURES
David Arquette is a married man once again!
The actor and his fiancée Christina McLarty made it official today with a wedding ceremony in Los Angeles, the couple's rep confirmed to E! News.
The pair swapped vows in front of their nearest and dearest, including Arquette's 10-year-old daughter Coco and the couple's baby boy Charlie West. Even their two basset hounds were able to witness the "I Do's." 
E! News was first to report that Arquette popped the question to his ladylove back in July in Malibu.
They arrived at ocean-view restaurant Mastro's Steakhouse for what seemed like a casual night out. But about 45 minutes after they were seated, Arquette motioned for the fam to follow him outside, where he got down on one knee and, at sunset, offered up an engagement ring with a large blue center stone.
Dmac/4CRNS/FAMEFLYNET PICTURES
"Coco, did you know?" McLarty was heard asking her now-step-daughter, who coyly replied, "Maybe" and then giggled, "Engaged! Engaged!"
Although the plot was sweet and resulted in an engagement, the pair told E! News they had to do a little do-over because McLarty was "embarrassed" the first time around.
"She's adorable. I'm not one to run around with different girls. I like someone that makes me feel good and that I can make feel good," Arquette admitted during a radio interview with Howard Stern in 2011 when the twosome first started dating. They briefly went their separate ways in mid-2012 before eventually getting back together.
Congratulations to the happy newlyweds!
InStyle was the first to report the news. 
(Originally published on Sunday, Apr. 12, 2015, at 6:30 p.m. PDT.)