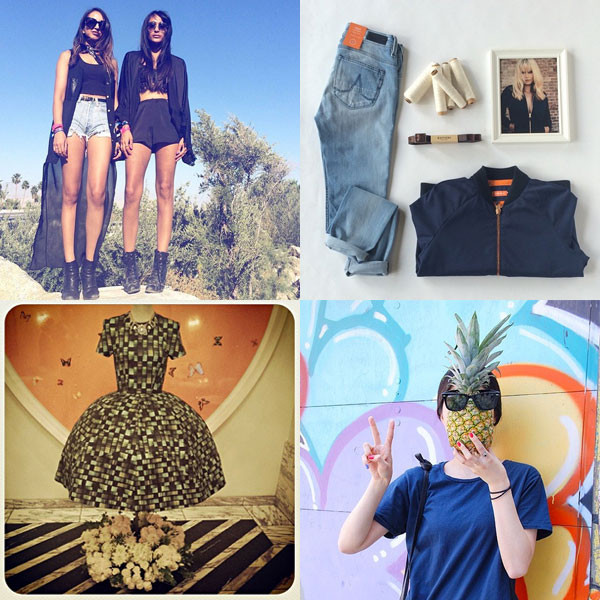 Instagram
Pop quiz: Can you think of a totally eco-chic fashion label?
The obvious reason to gravitate towards eco-friendly brands is because they're good for environment, duh! Dressing with sustainability in mind and nabbing a chic outfit is like having your vegan chocolate cake and eating it too (see what we did there?). And now, fashion elites are picking up on earthy initiatives like never before—Stella McCartney is completely vegan, and Moschino offers faux fur options galore. H&M's Conscious brand is all about sustainable style, and if you're looking for select bohemian duds sans a carbon footprint, then Free People is your destination.
But enough with the big name brands—now, we're giving some love to the best totally eco-friendly lines you haven't been introduced to yet. And it being Earth Day, it's only right to do your part and get shopping!
1. Amour Vert
Baring the French phrase for "green love," this whimsical brand is just as elegant as it is environmentally conscious. That means gorgeous garments made with sustainable fabrics, non-toxic dyes and a "zero waste" design philosophy. And if you weren't sold already, Gwyneth Paltrow and Blake Lively are big fans, with both featuring the eco-chic line on their respective blogs.
2. Delikate Rayne
Ethical. Sustainable. Luxurious. What more could you ask of  this delicate cruelty-free line? Their crisp designs feature cruelty-free, vegan textiles to create a truly inspiring collection. In fact, we'd be hard pressed to find styles more refined than these. 
3. Vaute Couture
Developed by former model Leanne Mai-ly Hilgart, this trendy label removes cruelty from the picture with all animal-free and recycled fabrics. Hence, the line swapped "haute" for "vaute" to reflect its vegan stance (and sharp styles).
4. Kuyichi
With a dream to bring organic cotton into the mainstream, Kuyichi became the self-proclaimed "first conscious fashion brand" in 2001. This Dutch brand offered the first organic jeans on the market, and still delivers effortless styles that blends cruelty-free and eco-friendly with a whole lot of pizazz. 
5. Mina + Olya
This eco-chic design house's latest collection is a moody assortment inspired by the chaotic '30s, and it's a knockout. The eponymous designers create rich styles with a modern edge, all using sustainable and organic fabrics. 
6. Bon George
Is vintage your thing? Then this eco-conscious gem is not to be missed. The folks at Bon George are committed to delivering classic designs constructed out of salvaged vintage fabrics. Plus, their line is positively drop-dead gorgeous.
7. Miakoda
These folks nailed the trifecta with their style mission: Protect animals, humans and the earth. And while they're at it, this New York-based brand is offering up the best in organic loungewear.
8. Loomstate
High quality and high eco-friendly standards intersect at this comfy-cozy brand. The sporty line made a commitment to only use organic cotton and sustainable practices, and they intend to keep that pact. 
9. Kowtow
Fair trade fashion's never looked so good! Using only fair trade organic cotton, Kowtow creates compelling looks that blend simplicity and sophistication into one bold medley.