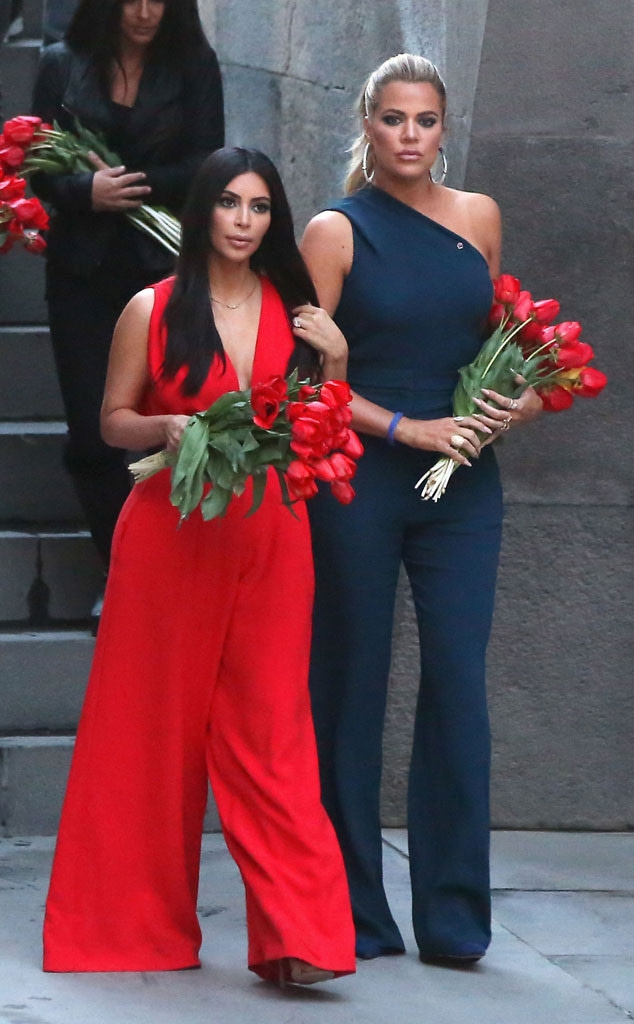 CHP/FAMEFLYNET PICTURES
It was an emotional afternoon for Kim Kardashian and Khloé Kardashian today in Armenia.
The Keeping Up With the Kardashians stars paid a visit to the Armenian Genocide memorial at Tsitsernakaberd in Yerevan Friday to pay their respects and honor the 1.5 million Armenians that were killed by the Ottoman Empire back in 1915.
Joined by Kanye West and their cousins Kara and Kourtni, the sister-sister duo arrived to the memorial with bouquets of red tulips in their hands. All three looked somber as they toured the complex with deputy director of the Genocide Institute Suren Manukian, who explained to them about the historic event.
KAREN MINASYAN/AFP/Getty Images
Kim looked gorgeous and fashionable in a red jumpsuit, while Khloé sported a conservative blue jumpsuit. Kanye went more casual in all black. The group was surrounded by dozens of fans and security guards as they walked around the complex.
When the group finally arrived at the memorial flame, they laid down their flowers and observed a moment of silence to honor the lost Armenians ahead of the event's 100th anniversary later this month. Kim and Kanye's daughter North West wasn't with them during the moving visit.
KAREN MINASYAN/AFP/Getty Images
In addition to the Armenian Genocide memorial visit, the famous family was presented with a certificate granting them land in the country on Friday. Khloé shared a photo of the official document writing, "Kourt and Rob we got you a souvenir!!!!!! Land in Armenia!!!"
Earlier this week, Kim and Khloé also had a meeting with Armenian Prime Minister Hovik Abrahamyan after visiting the Mother Armenia statue in Yerevan. "Khloe & I visiting Mother Armenia yesterday. This statue reminds visitors of the strong female figures in Armenian history. I love how powerful women are and respected so much in our culture!" Kim wrote on Instagram.