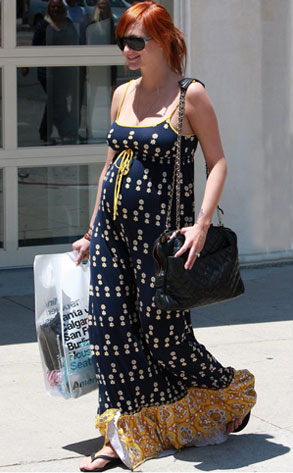 EF/Flynetonline.com
When is Ashlee Simpson-Wentz due?
—Tess
She has said it's the last week in October. Whew, that was tough. Got any easier Burning Q's for me?
Could you please tell me what is going on with Whitney Houston, as I have been waiting for years for her new CD?
—John, Belfast, Northern Ireland
Her people tell me there is no release date set for her new album.
Why are celebs like Madonna always denying divorce rumors for a long time even though they announce that they are true after all?
—Becca
Let's just suppose that the rumors about a Madonna-A-Rod affair were true. In that case, "Madonna could have been brought in as a co-adulterer in A-Rod's divorce case," East Coast divorce attorney Vikki Ziegler tells me. "If she didn't want to be entangled in that court case, that would make sense. In that case it would have been smart to deny it until A-Rod settled his case."
But there are a ton of reasons for such denials in Hollywood marriages, she says. "Many times, the celebrities want to deal with things privately before the cat gets out of the bag—talk to their children and families before they let everyone else know," she says. "Or they just want to wait and keep it private until both parties both know they're ready for divorce."
Your handle is offensive, vulgar and completely inappropriate. I will never again read an opinion column from you.
—Joseph
Hey Joseph: BOOBIES.
Are Hef and the Girls Next Door really not together anymore?
—Carolina
Hef and Holly have halted their hot Hollywood hookup. Oh, come on. Like you can do better.
Got a question about Hollywood? ASK IT: answerbitch@eonline.com
Oh, and be my fan on Facebook, 'kay?