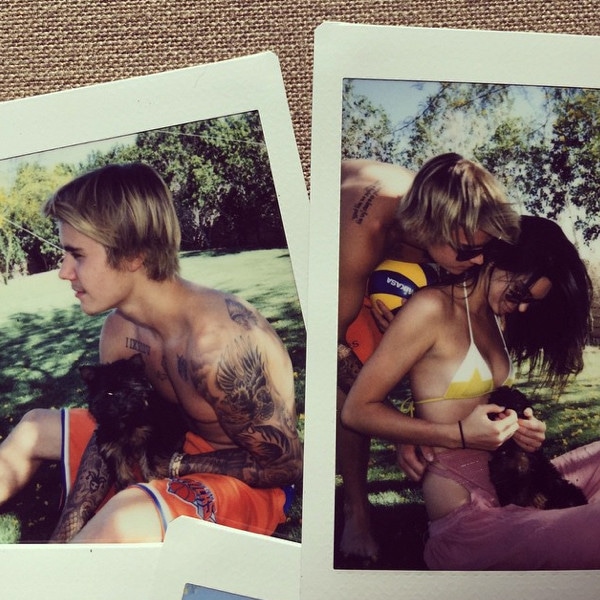 Instagram
Justin Bieber and Kendall Jenner are doing little to quell the romance rumors with their latest Instagram pics.
The crooner posted two shots of him hanging out with the E! reality star at a private home shortly before the big festivities begin for the 2015 Coachella Valley Music and Arts Festival and fans immediately began freaking out.
Why you ask? Well, take a good look and check out where the Biebs' hands are! Beliebers near and far are pointing out that the good looking duo—who were just featured in a steamy Vogue shoot together—look more up close and personal than ever before.
In another set of shots, the duo's mutual friend Hailey Baldwin posted a pic of her posing with Jenner in a white bikini and wrote, "Good start to Coachella."
Of course, this isn't exactly the first time that the two stars were rumored to be a couple.
In fact, shortly after being spotted grabbing dinner together in Paris, the stunning brunette model opened up about the singer during an interview with Nightline.
"He's a longtime friend of our family," the Keeping Up With the Kardashians star said of the "Where Are You Now" crooner, laughing at the speculation. "Everybody loves to assume things, but no." 
And in this month's issue of the aforementioned fashion bible, Bieber, Jenner, Gigi Hadid, Ansel Elgort, Dylan and Hopper Penn and more were dubbed the next Hollywood brat pack.
In the poolside shoot, Biebs and Jenner were shown lounging in swimwear with their arms around each other.
"I'm actually an introvert," the pouty singer told the mag when explaining the public's perception of him. "But as far as shooting fashion goes or being onstage—me having to be on—I don't get nervous.