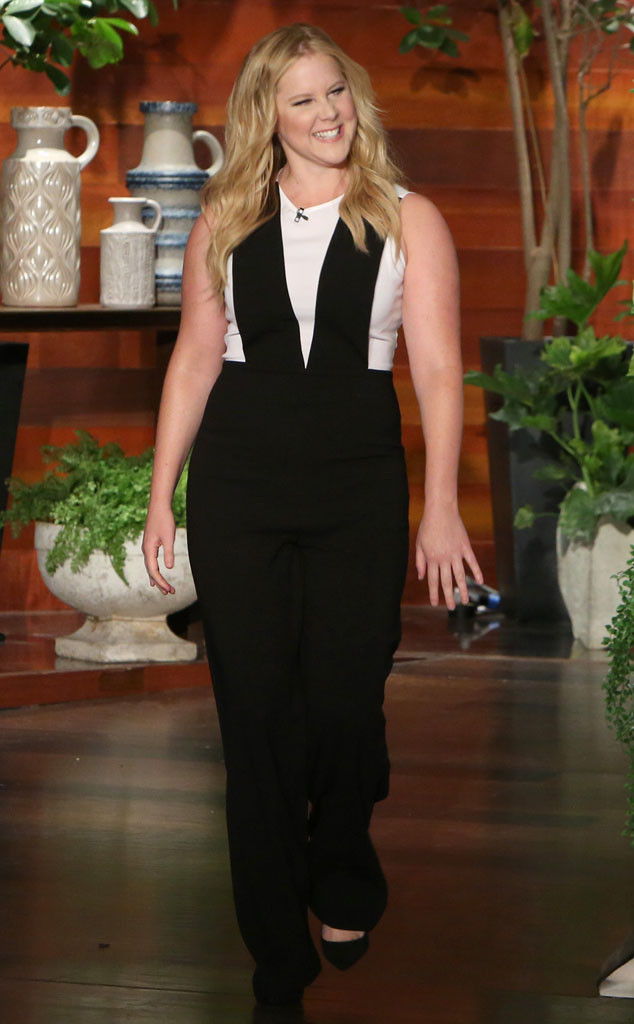 Michael Rozman/Warner Bros
Amy Schumer had Ellen DeGeneres in stitches Wednesday.
Before she hosts the MTV Movie Awards Sunday, the comic stopped by The Ellen DeGeneres Show and explained why she prefers the East Coast to the West Coast. "Do you like it here?" DeGeneres asked her.
"I mean, I don't fit in here. Just straight up body type," the Inside Amy Schumer star said. "Like in L.A., my arms register as legs and it's like, 'Why is that octopus out on Sunset?' It's not for me out here. It's not." Asked what she does when she visits L.A., Schumer joked, "I cry. I just sit in my room [bawling]."
"Last time I was here, right form the show, I got courtside tickets to a Laker game. My business agent thought I was mad at him for sexually harassing me. But I'm 33, so I'm just starting to really appreciate that, you know what I mean? It's true! I can't speak for everyone...but in your twenties, you walk past a construction site and you're like, 'Oh, don't look!' But then in your thirties, I'm just like, 'What about this?'" Schumer said, standing up and pointing to her butt. "It's like my skirt's over my head and I'm like, 'Ahh!' They're like, 'We're eating.' It changes. It really does. So, I got courtside seats...I went and I thought it would be free booze. It's not! It's not! I guess you have to be on the team to get free booze."