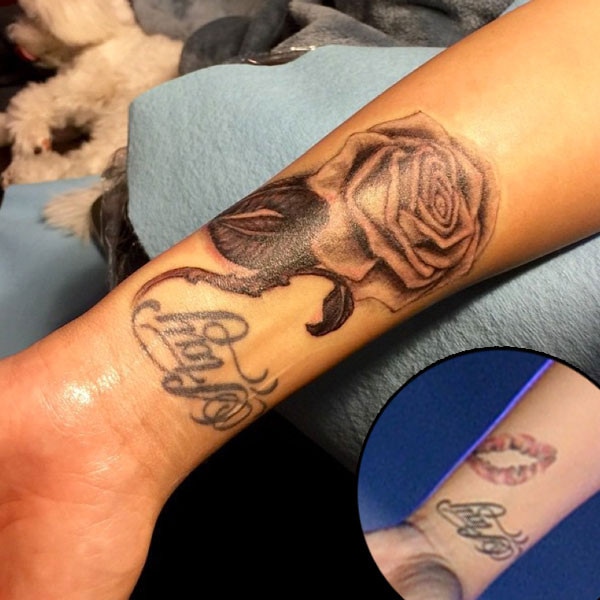 Instagram, Getty Images
Some tattoos tell a story, and others are just for the sake of fun. But most of Demi Lovato's ink usually says something about her past or what she hopes will come from the future. One tattoo, however, didn't go as well as planned.
The "Neon Lights" singer once had lips tattooed onto her forearm, but she must not have liked how they turned out because a new photo uploaded to her Instagram shows that she had the tattoo transitioned into a large rose! "Bye bye and hello .. Thank you SO MUCH to my brother @GEESPOTAT2... It looks beaaauutiful and I LOVE it!! #RIPvaginatattoo #kidsdontdodrugs," she captioned the pic.
Referring to the lips as her "vagina tattoo," Lovato's new ink seamlessly includes the old lips to look like leaves on the rose's stem. Her other tattoos include the words "stay strong" on her wrists, which serve as a thank you to her friends and family who supported her while she was seeking treatment for emotional and physical issues.
She also has a flock of 12 birds, which was created by famed tattoo artist Kat Von D, to remind her of her faith.
Lovato's Instagram and Twitter feeds are often filled with inspirational messages. Just recently the "Really Don't Care" crooner celebrated three years of sobriety and posted an emotional message to boyfriend Wilmer Valderrama for being one of the strongest forces in her life.
"I wish I could put into words how grateful I am for this man right here. But my love has grown to a level that words could never possibly express how much this man completes me. He's loved me the way I never thought I deserved to be loved and with this day marking my 3rd year sober," she wrote. "After sharing my ups, putting up with my downs and supporting my recovery... he still never takes credit and I want the world to know how incredible his soul is."
She added, "I really wouldn't be alive today without him. I love you Wilmer."
Since overcoming her issues, Lovato has become an active voice in helping girls overcome body image problems. She told People magazine, "I just wanted people to know that you don't have to have a thigh gap to be beautiful, and to reinforce that it's all about finding the confidence inside."