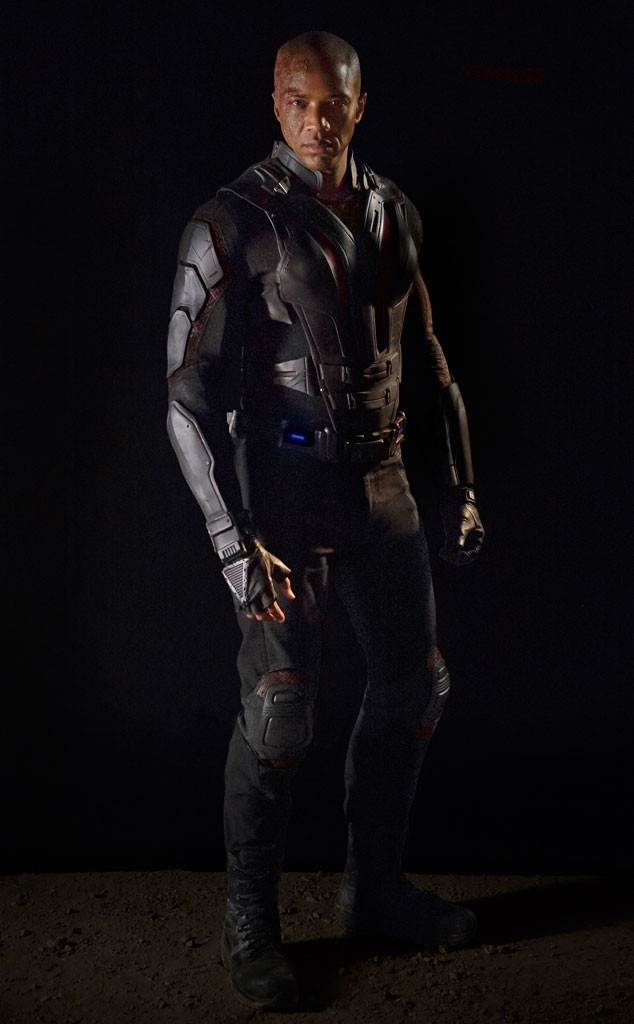 ABC
Warning: major Marvel's Agents of S.H.I.E.L.D spoilers below! Do not read until you've seen tonight's episode of Agents of S.H.I.E.L.D.!
He's aliiiiiive!
On tonight's action-packed Agents of S.H.I.E.L.D., just when Coulson (Clark Gregg) and Hunter (Nick Blood) thought they were about to become the "real" S.H.I.E.L.D.'s prisoners, Coulson called in his only option, his back-up plan, to save the day: Deathlok (J. August Richards)! Turns out, the superpowered soldier has been working for Coulson in secret this whole time, and he's been doing so with a whole new, epic supersuit!
"Coulson has had Deathlok in his back pocket since we saw him last," Richards told E! News along with a small group of reporters on set of the ABC comic book drama. "He pulls me out of hiding to help him out with this really huge mission that is vital to S.H.I.E.L.D. As you can see, I got a lot of upgrades while I've been gone. My costume is very different. The character has been evolving since we've seen him last. This is like Deathlok 2.0."
Since we last saw Deathlok, he's come into his own and is more confident in who he is as a supersoldier.
"I like to think Mike is now owning Deathlok," Richards says. "Before I think he was really reluctant. I felt that was really Mike with this body that got forced on him. Like with this artificial leg that we jokingly say cost $10 million, or the rockets on his arm, he didn't know how to incorporate that into his life, or his movement."
Richards didn't know officially that Deathlok would return in such a huge way until right before it came time to shoot his first episode back.
"I had been kind of tipped off that I'd probably be returning, so I had to keep that a secret for a while," Richards says. "I was really excited to come back. But every time I do come back, I feel like I'm playing a completely different character because there is so much that goes on off camera. Like I said before, Mike Petersen is owning his role as Deathlok now and that's a whole different performance."
While he couldn't reveal too much about Deathlok's future on the show, he did tease that this won't be the last you see of him on Agents of S.H.I.E.L.D.
"This is an ongoing storyline for what you're about to see," Richards says. "I can't really speak to the future of it because I literally find out just a few weeks before things happen. I know, as it was left in season one, there was a lot of unfinished business with the other team members. I think you'll get to see that played out a bit."
And this isn't the last upgrade you'll see when it comes to Deathlok's ultra-cool supersuit.
"It's such a work in progress and I can see a scenario where that happens," Richards says of future changes to his costume. "I was really excited [because] in one episode Mike [goes] under an X-ray and we get to see that underneath it all he does look a bit like the comic character. [He's] constantly evolving as you can already see!"
Marvel's Agents of S.H.I.E.L.D. airs Tuesdays at 9 p.m. on ABC.
Where does Deathlok's new look rank among all the other TV superhero costumes? Click through our gallery below to find out!