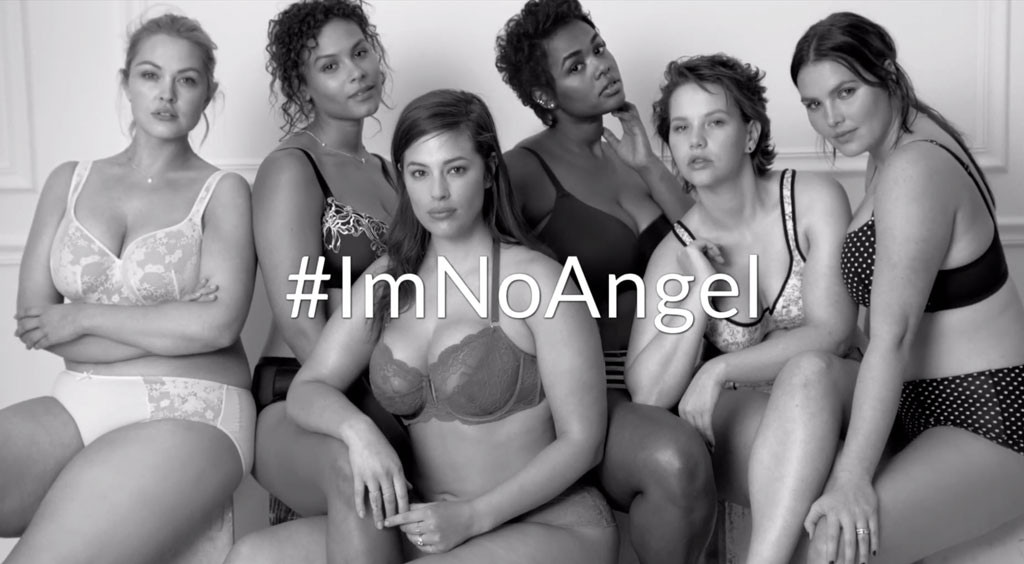 Lane Bryant
Lane Bryant is taking aim at Victoria's Secret with their newest campaign for their exclusive lingerie collection, Cacique.
The first advertisement released today titled #ImNoAngel features several scantily clad, famous plus-size models like Candice Huffine, Ashley Graham and Marquita Pring, flaunting their killer curves in lacy separates.
"How boring would it be if we were all the same?" one model asks, while another chimes in, "I'm all kinds of sexy."
All throughout the dramatic black-and-white video, the ladies reveal their definition of sexy and what makes them feel most confident.
The models took to social media to rally up support for their latest ads, asking fans around the globe to share their own personal definitions of sexy.
Huffine posted a selfie earlier today, showing her wearing an "ImNoAngel" T-shirt and wrote, "I redefine sexy by being bold and by refusing to be anyone but me!!!! You only get one life ladies, live it and love it! #lanebryant #redefinesexy #bebold #beyou #lovetheskinyourein #everyBODYissexy."
Meanwhile, Graham posted a similar sultry photo and shared, "I redefine sexy by stating that Beauty Is Beyond Size!!"
But models aren't the only ones jumping on board Lane Bryant's new bandwagon.
Glee's Amber Riley posted a video on Instagram supporting the campaign and said, "It's how I feel and it's who I am. I am all woman. A symbol of confidence who writes her own rules, unique and complete. I break the mold. I'm no angel. I'm all kinds of sexy!"
What do you think of the #ImNoAngel campaign? Tell us below!