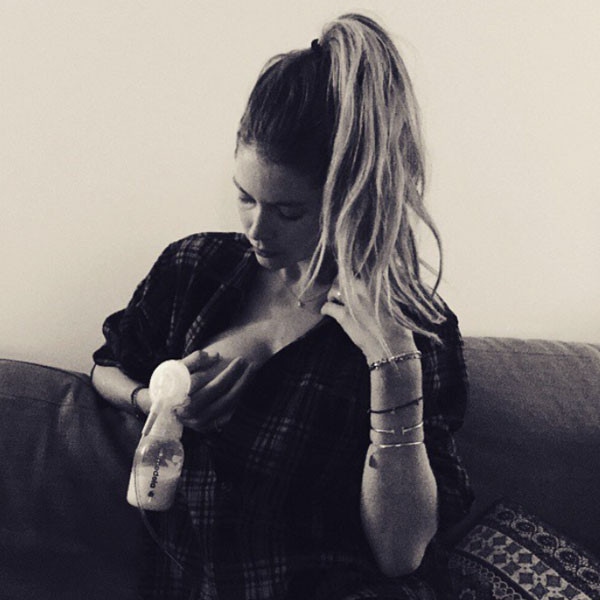 Instagram
Doutzen Krous is proudly promoting breastfeeding on her Instagram page. 
The 30-year-old supermodel, who welcomed daughter Myllena Mae with husband Sunnery James in July, took to the photo-sharing site on Sunday to post a black-and-white pic of herself pumping breast milk. 
"Daily routine! I'm promoting breastfeeding, it's the best for your baby when possible! #breastfeeding #breastpump #breastfeedingmom #breastfeedingawareness," the mother of two captioned the pic. 
This isn't the first time the former Victoria's Secret stunner has publicly promoted breastfeeding. She previously covered Vogue Netherlands' March 2015 issue with her husband and their two children—the couple is also parents to 4-year-old son, Phyllon—and was pictured breastfeeding her then 5-month-old daughter in bed. 
Over the weekend, the couple's youngest child celebrated her birthday, and the proud parent took to Instagram to commemorate the occasion. 
"Just turned 8 months :) #standing #proud," she wrote of the sweet image. 
Breastfeeding has been a hot topic for sometime, and a number of celebs have spoken out in support of the practice.
In July 2014, Facebook altered their Community Standards policy to allow for breastfeeding pics, and stars such as Olivia Wilde, Gisele Bündchen and Miranda Kerr have all proudly posted photos of themselves breastfeeding their children. 
"I just think it's important for women to feel comfortable feeding their babies wherever," Alyssa Milano previously told E! News. "If we're in public, we shouldn't have to go in the bathroom."
She added, "I don't want to eat in a public bathroom. Why should I feed my baby in a public bathroom?"