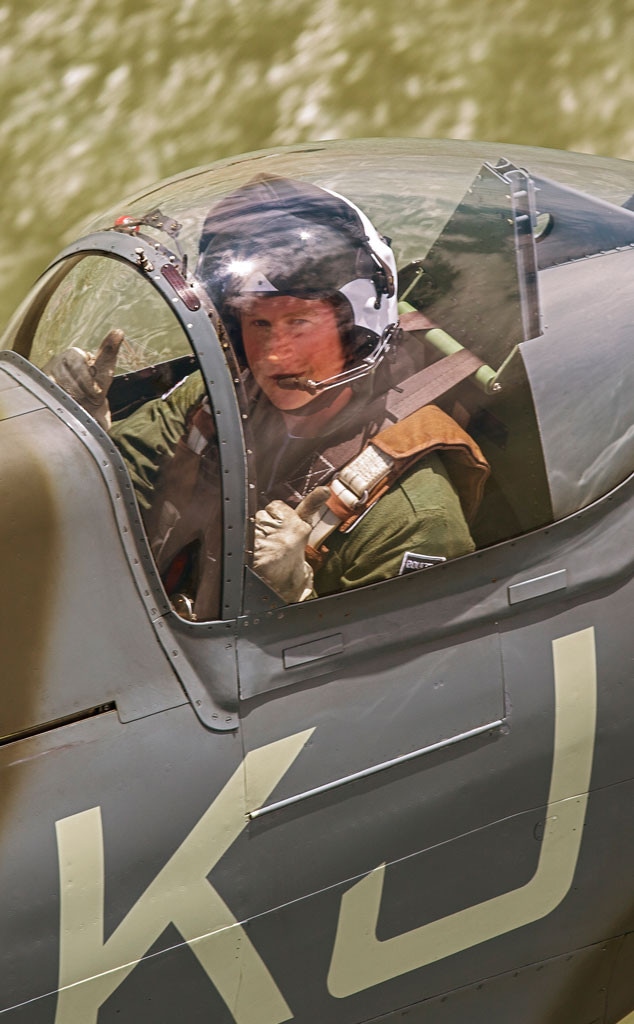 John M Dibbs/Boultbee Flight Academy/Getty Images)
He feels the need, the need for speed!
In new, undated photos released by the Boultbee Flight Academy in England on Easter Sunday, the U.K.'s (other) studly prince, Prince Harry, flies in the back of a Spitfire, a British fighter plane used during World War II.
The 30-year-old royal, a former British Army Apache helicopter pilot who served two tours in Afghanistan, took the flight to raise awareness for his Spitfire scholarship, which offers training to wounded servicemen and women.
The program was inspired by pilot Douglas Bader, who achieved 20 aerial victories during World War II despite losing both his legs a decade earlier, in 1931
In November, Harry had met the recent scholarship recipients, Alan Robinson, 36, who serves as an aircraft technician in the Royal Air Force and had his leg amputated after a motorcycle accident in 2011, and Nathan Forster, 27, who was injured in an IED blast in Afghanistan the same year. After their training, they will take a solo flight in a Spitfire to help mark the 75th anniversary of The Battle of Britain this September.
John M Dibbs/Boultbee Flight Academy/Getty Images)
The U.K. newspaper The Telegraph posted dizzying video footage of Harry's flight. It shows him giving the thumbs up as he flies upside down above the English Channel, which separates the United Kingdom from France, and performing daring manoeuvres with a co-pilot.
"Woah!," he is heard saying, amid much crackling.
Harry is known among his comrades as Captain Harry Wales. He is set to report for military duty one final time, in Australia, a constitutional monarchy that recognizes his grandmother, Queen Elizabeth II, as its mostly ceremonial head of state.