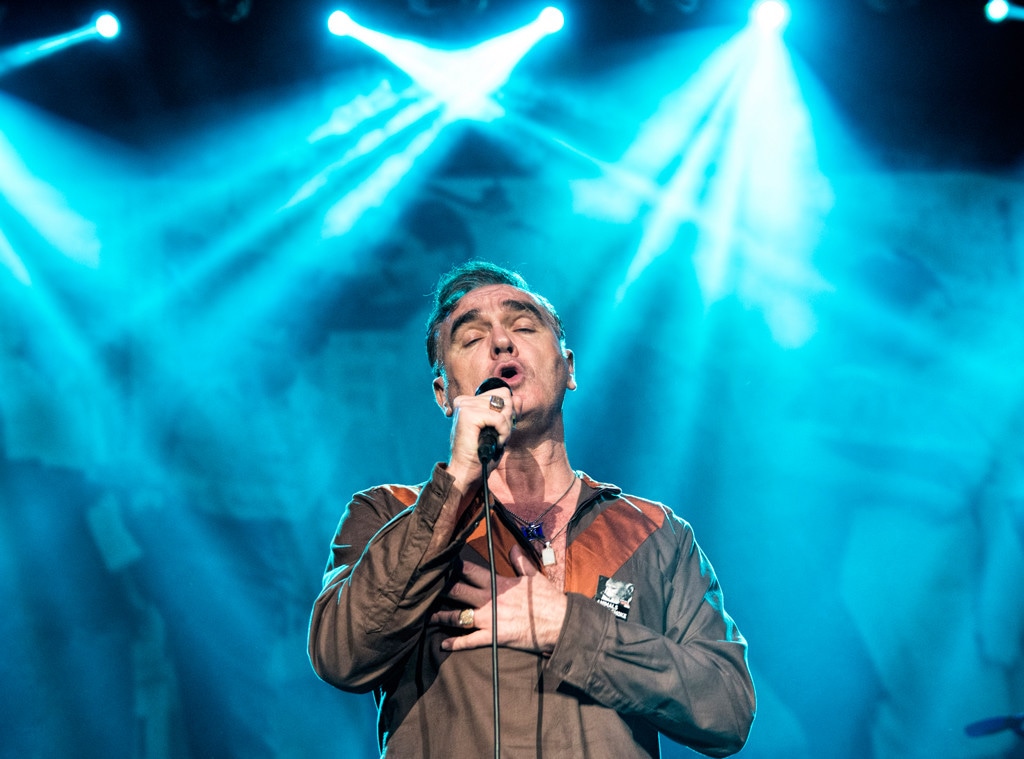 Pedro Gomes/Redferns via Getty Images
Moz is back!
A year after cutting short a tour due to a health scare, Morrissey is set to return to the United States for a new concert series.
The 55-year-old former frontman of The Smiths is currently touring Europe and earlier this year had been announced as one of the top acts to perform at the 2015 Firefly Music Festival in Dover, Delaware on June 19. According to his fan-operated page True To You, where the famously private British singer occasionally posts messages, and music site Billboard, he is now set to embark on a full 18-date tour, starting on June 11 at New Orleans' Saenger Theater.
He will be joined by the band Blondie at a show at Madison Square Garden in New York City on June 27, while singer Amanda Palmer, who rose to fame as the frontwoman of The Dresden Dolls, will open for him at the San Jose Event Center in California on July 25, the final date. Tickets for another show, which takes place on July 18 in Salt Lake City, went on sale on Friday. Tickets for a July 9 concert at the Civic Opera House in Chicago will go on sale on Ticketmaster next week.
Morrissey has over the years occasionally canceled performances and cut short entire tours due to illness (and sometimes, ideological reasons). He last performed in the United States in June 2014, in Boston, before canceling the remainder of the concert series. His reps said the tour was cut short after he contracted a respiratory infection at a Miami show that took place a week earlier.
The singer began a new European tour that October. That month, he talked about the tour cancelation and a recent health scare in an interview to the Spanish-language outlet El Mundo, which quoted him as saying that doctors had "scraped cancerous tissues four times already," adding, "If I die, then I die. And if I don't, then I don't. Right now I feel good."
Morrissey is promoting his new album, World Peace Is None of Your Business, and last week released a new single, "Kiss Me a Lot." His current European tour ends in early May and he plans to perform four concerts at the Sydney Opera House in Australia at the end of the month before he begins the U.S. leg.
"Thank you for being there, and for showing such vigorous and loud support," he said in a message posted on True to You on Tuesday. "We shall breast the tape at Barcelona and Murcia (Spain) in April and May, and then we square up for four nights at the Sydney Opera House in Australia. Good times for a change. Is it illegal to be this happy?" 
Morrissey, known for often controversial political remarks, has already sparked some outrage with some elements used during his recent performances.
In Belfast in Northern Ireland, which is part of the United Kingdom, photoshopped pics of Queen Elizabeth II looking as though she is giving the finger and images of Prince William and Kate Middleton, as well as of Prime Minister Margaret Thatcher (who Morrissey is not a fan of) were screened as the singer performed "The Queen in Dead."
The vegetarian star also demanded that no meat product be served, according to The Belfast Telegraph. He has made similar requests at past concerts. Menu restrictions for his upcoming U.S. tour have not been announced.