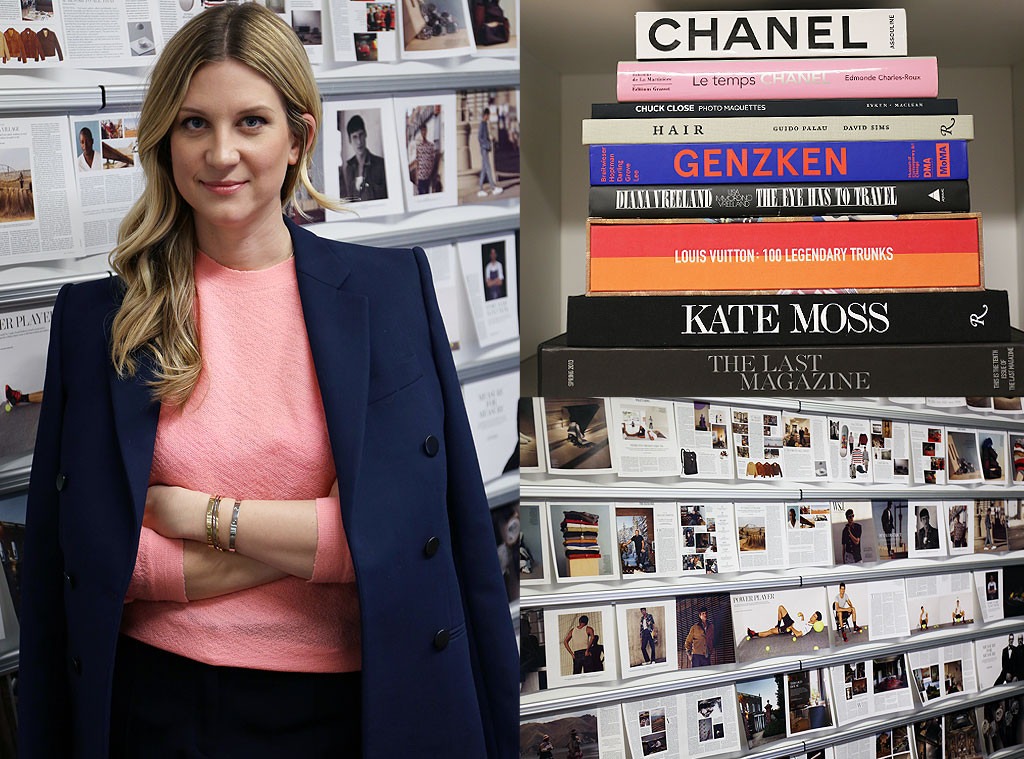 Jennifer Cooper, E!
Think The Wall Street Journal only caters to investors and businessmen? Prepare for a stylish surprise.
Founded in 2008, WSJ. Magazine is a modern day bible of lifestyle coverage, with powerful coverage of everything from architecture to A-line hems on the runways. And although new to the glossy game, the publication doesn't lack for A-list cover cameos, counting the likes of Gisele Bündchen, Julia Roberts and Pharrell as a few of the faces of the mag.
To the naked eye, WSJ. Magazine's speedy success may seem a lucky chance. But considering Kristina O'Neill is the innovative editor-in-chief of the production, chalking up the mag's success to "luck" is an understatement.
From her early days as the assistant to the original "Sex and the City" columnist to her lengthy experience at Harper's Bazaar, O'Neill is a seasoned pro at keeping magazines cutting-edge and fresh. But let's not get ahead of ourselves—read on for all the details about what a day in the office is like for this editorial trendsetter. 
What was your very first job?
Editor-in-chief of my high school newspaper.
How did you get started in your career?
While I was a student at NYU, I was Candace Bushnell's assistant when she was still writing "Sex and the City" for the New York Observer. After college, I went to work at Time Out New York magazine. 
Who are some of your career heroes?
Katharine Graham of The Washington Post.
What's a typical workday like for you?
I'm usually up by 7 a.m. I put on coffee immediately and read the papers (NY Post, WSJ, NYT). Then I skim emails, respond to anything urgent or on European time. If there's time, I open my Instagram app. All the while I'm getting my 8-year-old daughter, Stella, ready for school. After I drop her off, I go exercise. I do Ballet Beautiful five days a week. From there, I head to the office. My mornings are usually spent meeting with members of my team, getting updates, reviewing layouts and looking at film that's come in from shoots. I often have lunch meetings. When I get back to the office I continue meeting with editors and contributors to plan stories for upcoming issues. If I have to take an external meeting, I usually do it in the afternoon. Anything I need to read comes home with me at night, my own version of homework.
Describe your office décor. What was your inspiration? Did you decorate it yourself?
I love the work of Studio Dimore out of Milan, and the Stiffkey Blue by Farrow & Ball paint in my office was inspired by a home they did. Besides the regular office furniture, I brought in a rug from one of my favorite stores in Brooklyn, Sharktooth. The armoire was a necessity; I go to a lot of events at night and needed a place to stash an outfit change or two.
List five things that are on your desk right now: Photos of my daughter, water, iPhone & iPad, stationery and proofs.
What do you typically wear to work?
A simple sweater, jeans and boots.
What are your favorite stores to shop for work clothes?
Céline and Saint Laurent.
What's the best piece of career advice you've ever received?
Trust your instincts.
Finish the sentence…
Today for lunch I had… grilled salmon and lentil salad.
The first website I log onto every day is… WSJ.com.
The beauty product you can always find in my purse is… Gypsy Water by Byredo Parfums.
My must-have work gadget is… iPhone.
My usual Starbucks order is… grande coffee with skim milk.
If I need a quick break during work, I usually… look at Instagram.
If I weren't doing this job, I would be… doing someone else's job.
The best part of my job is… the people I work with.