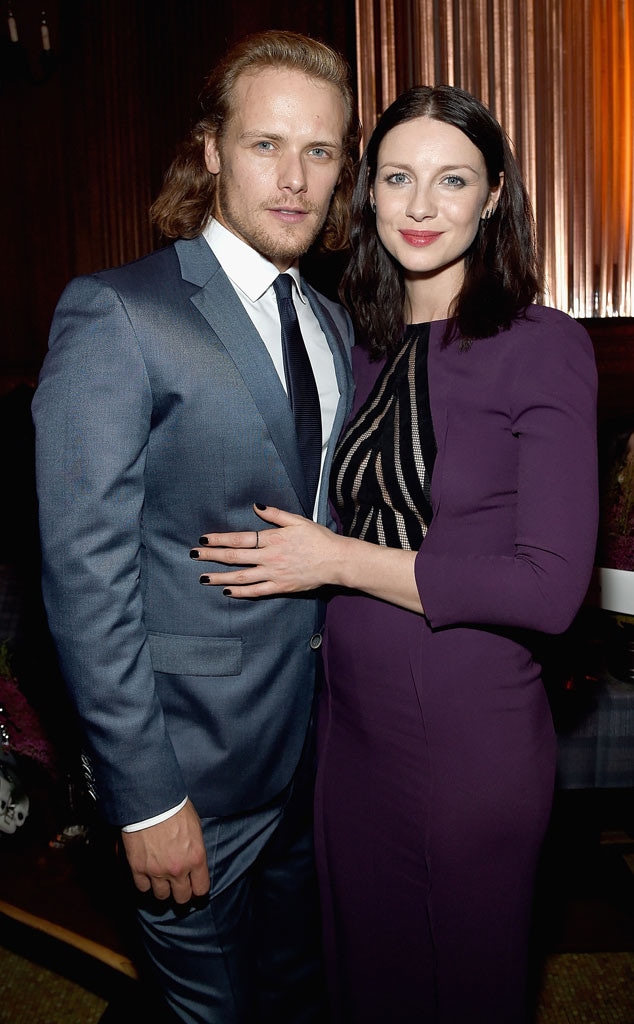 Jamie McCarthy/Getty Images
True fact: Outlander fans just might be the most passionate fanbase around, especially when it comes to the core romance of Jamie (Sam Heughan) and Claire (Caitriona Balfe)! We have known lots of  "shippers" in our time (fans who root for a particular relationship), and trust when we say, the loyalty with the kilt-lovers is FIERCE.
So, this got us thinking. Now that the Outlander actors are the recipients of such raging shipperdom (that's not a word), were the tables ever turned? Have they ever shipped a TV couple of their own? Of course they have. But some were hard-pressed to come up with their favorite TV ship. The ones that did, well, their answers are equal parts amazing, funny and wrong.
The question: Fans of the show are very invested in Jamie and Claire. Have you, as a viewer, ever been as invested in a TV couple?
Caitriona Balfe (Claire Randall): "I mean way, way, way back…I grew up in Ireland so we get all the shows 10 years later than everyone else, so anytime I start talking about TV when I was a kid, everyone's like, "Are you 40? 50?" But Cheers was a big show, so Sam and Diane, I mean I don't know. Yeah. Ireland was a little behind the times...And then with Kirstie Alley. They had that feisty love-hate thing. I also really liked Ally McBeal, so her and Robert Downey Jr. That was a good one, too."
Tobias Menzies (Frank Randall / Jack Randall): "Oh, no I can't think of anyone. Batman and Robin? [Laughs.]"
Sam Heughan (Jamie Fraser): "Oh wow. Oh I'm sure there was. I'm not sure why, but The Fresh Prince of Bel-Air is coming into my head. But no, it wasn't that. But there have been so many great TV couples. When you invest in the show and that couple breaks up, it's never the same again. Mulder and Scully! You know, The X-Files. It's like you want them to get together!"
Lotte Verbeek (Geillis Duncan): She couldn't think of a TV couple, but did give us this great nugget: "I just revisited The Bodyguard, I love it." Geillis ships Kevin Costner's Frank and Whitney Houston's Rachel. Maybe it's because Geillis is in need of her own protection pretty soon on the show? (Oops! Did we say that out loud?)
There you have it. Sam and Diane. Mulder and Scully. Batman and Robin? Besides Claire and Jamie, who's your favorite 'ship? Tell us in the comments below.
Outlander airs Saturdays on Starz.