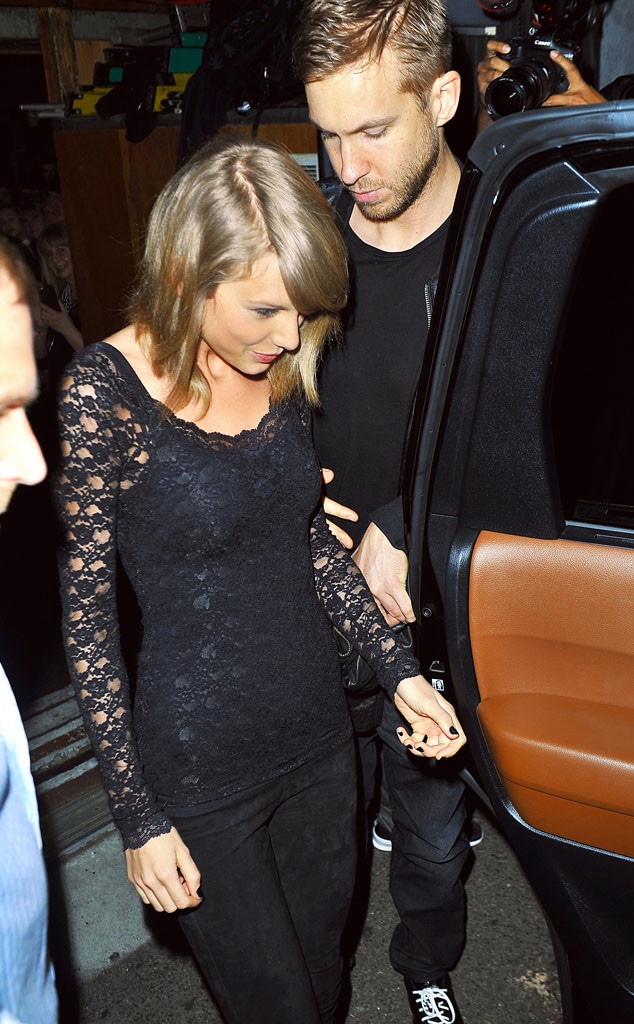 MEP/Splash News
Taylor Swift digs Calvin Harris' style.
The "Style" singer and the "Blame" hit maker made no attempt to hide their budding romance at Haim's concert at The Troubador in West Hollywood Thursday. A few concertgoers snapped photos of the two musicians enjoying the show from a private area in the venue. Harris was photographed wrapping his arms around Swift's waist, and at one point, the pop singer was seen sitting in the EDM producer's lap!
Given the open space around them, it's not as if Swift was out of seating options!
Swift, 25, and Harris, 31, wore matching black leather jackets. It wasn't the first time that they two had coordinated their looks, as they also wore similar styles during a recent trip to Whole Foods in Nashville.
The musicians are both Haim groupies. The pop singer often spends her downtime with sisters Alana Haim, Danielle Haim and Este Haim, while Harris worked with the group on the 2014 hit "Pray to God."
After the concert ended, the lovebirds once again held hands before driving off in the same car. Neither Swift nor Harris has commented on the status of their relationship, but the new pictures speak volumes.
"When they came out of the club, pushing and shoving ensued as photographers jockeyed for a position outside the venue's private exit. Calvin led the way for Taylor and helped her into the car," a witness tells E! News. "Calvin was very much the gentleman getting in front of the paps to help her into the car."
Shortly after the Whole Foods pictures surfaced online, Swift and Harris were spotted "getting snuggly" at Kenny Chesney's concert in Nashville on March 26. The "Shake It Off" singer then traveled to L.A. for the 2nd Annual iHeartRadio Music Awards, where she won three awards and performed with Madonna. Harris won the award for "Dance Song of the Year," though he was unable to collect it in person since he was performing in São Paulo, Brazil, that night. Instead, Harris took to Twitter, telling fans, "Thank you."
While mulling potential Tinder matches on a London radio show Capital FM last November, the Scottish music producer said he would swipe left for Swift. "She's just the opposite of my type," he said. What changed? "He's attracted to her and she thinks he's hot!" a Harris pal says in Us Weekly's Apr. 13 issue.
Plus, Harris and Swift understand each other. "He is the No. 1 artist in his world and she is in hers," a source tells the tabloid. "She needed an older guy who understood her and is a workaholic just like her."
Swift will kick off her five-month 1989 World Tour in May, and Harris has a busy touring schedule, too. Even so, a source tells Us Weekly, "Taylor's just getting to know him, but so far she likes what she sees!"
Needless to say, fans are already rooting for Swift and Harris' new romance:
—Reporting by Jessica Rubenstein