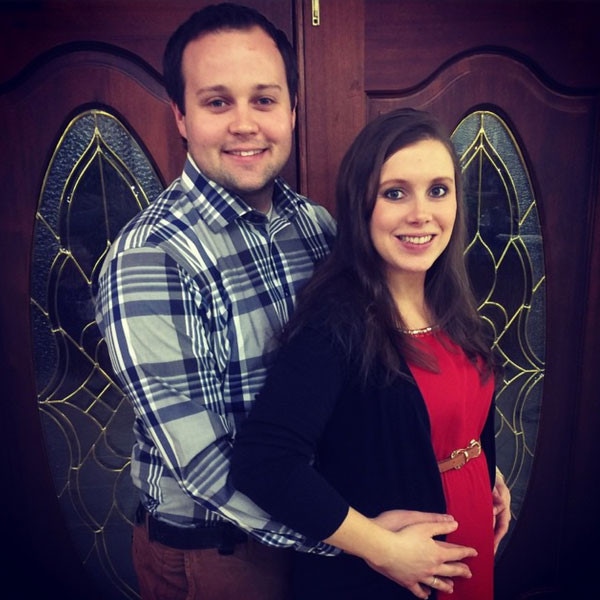 Instagram
As the ongoing debate over the recently passed Religious Freedom Restoration Act in Indiana and a similar bill in Arkansas proves, one person's "religious liberty" can just as easily be another's heartache.
19 Kids and Counting's Josh and Anna Duggar both expressed support for the passage of a religious freedom measure in Arkansas today, as lawmakers in both their home state and the state of Indiana scrambled to remove language from their respective bills that could be interpreted as a pass to discriminate against gays and lesbians.
"Take a stand for religious freedom in Arkansas—join the rally on the State Capitol steps at 12pm today! @FamilyCouncil#RFRA," Josh encouraged via Twitter.
Wife Anna, who's currently pregnant with the couple's fourth child, shared a quote from Southern Baptist Convention President Dr. Ronnie Floyd on her Instagram: "
"Religious liberty must always be preserved for all persons. It is one of the major core values of our country which must never be compromised or distorted in any way. The leaders of our nation must always lift high this founding principle of freedom for all Americans." #FreeToBelieve."
The concern over the language of Arkansas' SB975, however, arose after Gov. Mike Pence signed the RFRA into being in Indiana and faced immediate backlash from all over the United States for passing a law that seemingly opened the door for businesses to discriminate against gay people and cite freedom to practice their religion as they see fit as a legitimate reason.
 Numerous celebrities, including Ellen DeGeneres, Andy Cohen, Bill Maher, Miley Cyrus, Ashley Judd and many more have voiced their dissent, while Wilco canceled a show they had scheduled for May in the Hoosier State, saying they'd reconsider once that bill went away.
Mike Coppola/Getty Images
Hometown son John Mellencamp penned a letter that was posted today by the Indianapolis Star in which he said that he's been watching the fight "with a heavy heart."
"I am not questioning the sincerity of those who believe they have acted in the interests of religious freedom, but I am resolutely stating my opposition to this misnamed and ill-conceived law. It is discriminatory, hurtful, and a stain on Indiana's national reputation," the "Our Country" singer wrote."I understand Governor Pence and the state legislature are working on some changes to the law's language, and I can only hope that they will do the right thing for the people of our state.
"I have thought seriously about canceling my upcoming shows, not wanting the resulting tax revenues from ticket sales, concessions and the like to help fill the same government coffers that would enforce this terrible law. But then I realized that I would be letting our government divide us again, keeping me apart from my most important audience: My Indiana fans who have been there for me from the very beginning. Our evenings together will be about music, and hopefully this situation will be made right by the time I see you in May."