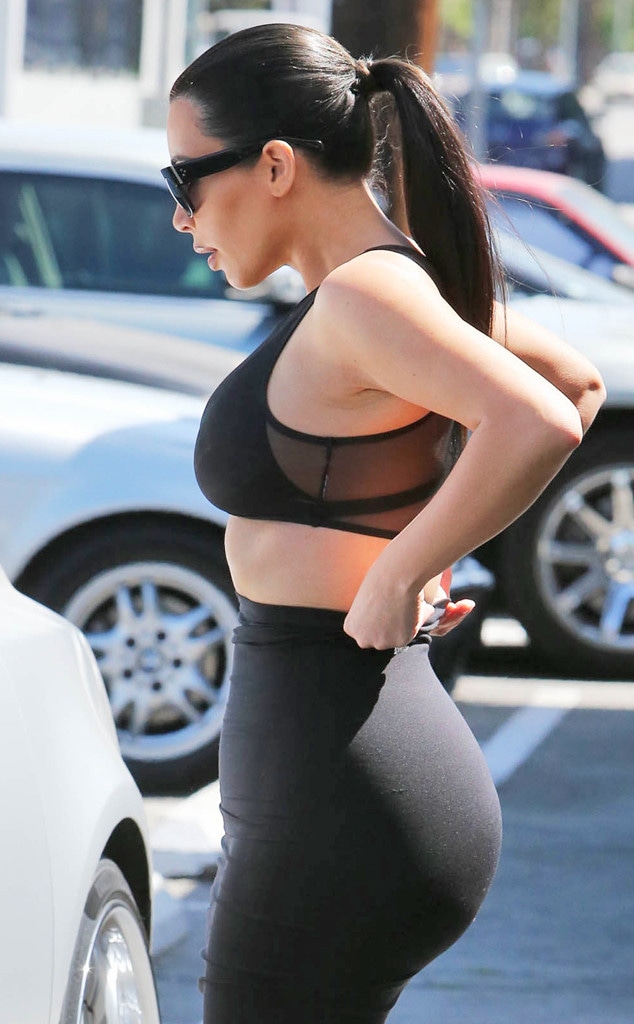 WCP/4CRNS/FAMEFLYNET PICTURES
Kim Kardashian may have started a trend within her own family, but we can't forget that her butt is the original upon which all other Kardashian butts have been based.
The E! star was flaunting those curves to full effect today while out and about in L.A., her black skintight pencil skirt making for a striking profile in the derriere department.
She paired her pants with a black crop top, her impressive cleavage on full display underneath the sheer overlay. Kim's once-again-brunette hair was pulled back in a sleek ponytail and she was rocking dark designer shades and strappy stilettos.
WCP/4CRNS/FAMEFLYNET PICTURES
Sporty-rocker chic, if you will.
Sister Khloé Kardashian's increasingly perky booty had been getting so much attention lately, Kim's little sis sharing frequent updates from her curve-chiseling workouts and then showing off the fruits of her labor in one revealing look after another, that we almost forgot who had the most famous asset of them all!
WCP/4CRNS/FAMEFLYNET PICTURES
Not that Khloé's butt doesn't merit that attention, case in point:
But back to Kim.
She highlighted, no pun intended, her return to her natural hair color earlier today, snapping a selfie with the caption, "Back to my roots."
Also today, she joined the OMG fest that occurred when Kourtney Kardashian shared the first photo of now 3-month-old Reign Aston Disick.
"MY RAD little nephew," Kim gushed, clever with the pun.
Tune in for more than the tail end of Keeping Up With the Kardashians this Sunday at 9 p.m. on E!