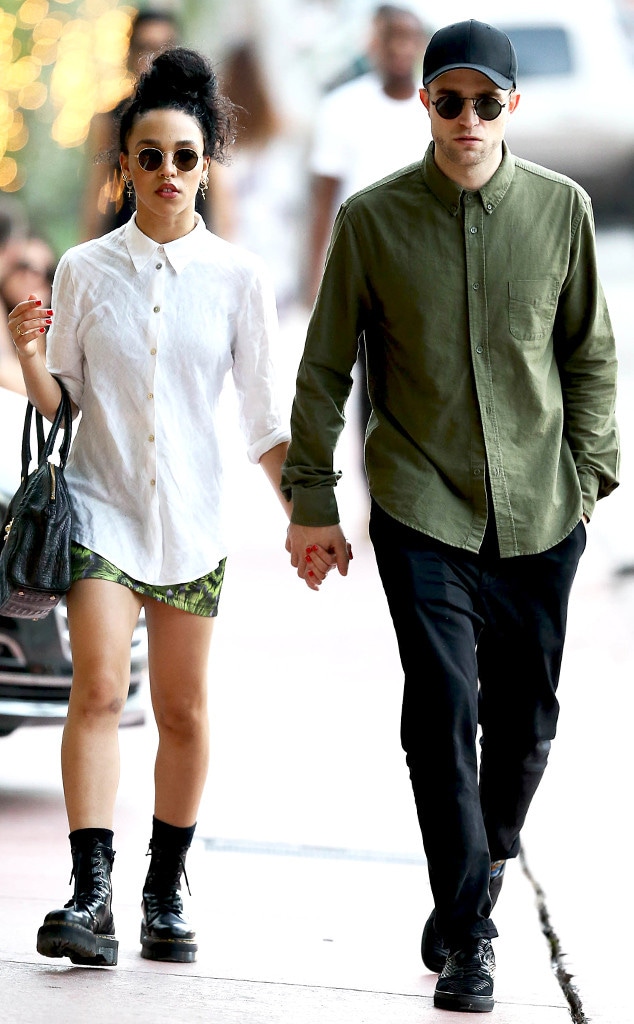 MiamiPIXX/SBMF/VEM/FAMEFLYNET PICTURES
Looks like 'Ol Patty and this British pop star are going to tie the knot! 
Robert Pattinson and FKA Twigs are engaged, sources confirm to E! News. Rapper T-Pain first spilled the beans to Vulture on Wednesday, but then later backtracked, claiming his confession was an April Fools' joke (looks like he was maybe just trying to cover his tracks!). 
While the pair have only been dating since September, their whirlwind engagement shouldn't come as too much of a surprise to fans, considering E! News reported last month that Pattinson had already given his ladylove a promise ring back in December. 
We're told that Rob has just begun to share the engagement news with his pals (including T-Pain, apparently!), but as you may recall, the couple enjoyed an intimate meal—an "I-want-to-marry-you-dinner"—with a few close pals after R.Pattz gave Twigs the promising bling. 
"There is a special connection between the two of them," a source previously told us of the couple. "Music is a big part of the relationship, because it means so much to them. They clicked instantly and they literally have been inseparable."
In addition to being a regular fixture at Twigs' concerts, the Twilight star brought the musician home to meet his parents over the holidays, where the recording artist received a big stamp of approval. "They absolutely loved her," an insider explained to E! News. "It went so well. Rob's family has always been supportive of him and they thought they were great together."
This is Pattinson's first public relationship since he split with former co-star Kristen Stewart in May 2013 after more than three years of dating. 
Congrats to the happy couple!