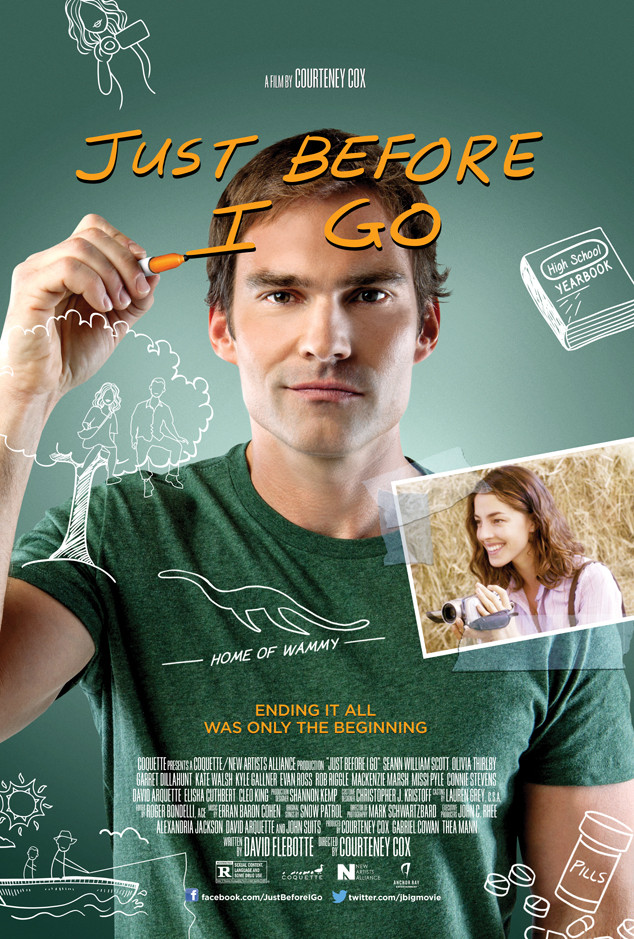 Coquette Productions
Cougar Town just aired its final episode on Tuesday, but it seems Courteney Cox is already onto bigger and better things. 
No, sadly, she's not orchestrating a Friends reunion. But she is releasing her big directorial debut. The new flick is called Just Before I Go, and it's certainly a bit of a change for the actress. The film follows Ted Morgan (played by American Pie's Seann William Scott), a depressed man who's returned to his hometown to settle up a few scores before comitting suicide. See? Dark. 
But Just Before I Go isn't all tears—there's a good amount of that signature Courteney Cox irreverent humor. 
There's the run-in with Ted's childhood bully that results in a goofy bar brawl. There's the fact that Ted's dad is now married to a woman who spits in his coffee and sleep-hits on Ted. (And yes, that means she hits on him while sleepwalking). And there's the always adorable Olivia Thirlby as Ted's last-minute love interest. Rob Riggle, Kate Walsh, Elisha Cuthbert and Evan Ross (as in Ashlee Simpson's Evan Ross) also star. 
We're not sure if Cox is going to make a cameo in the film, but Just Before I Go's jokes certainly have Courteney written all over them. 
The flick hits theaters on April 24, but we've got an exclusive look at the just-released trailer. But heed this warning: Watching may induce Friends and Cougartown-related nostalgia.