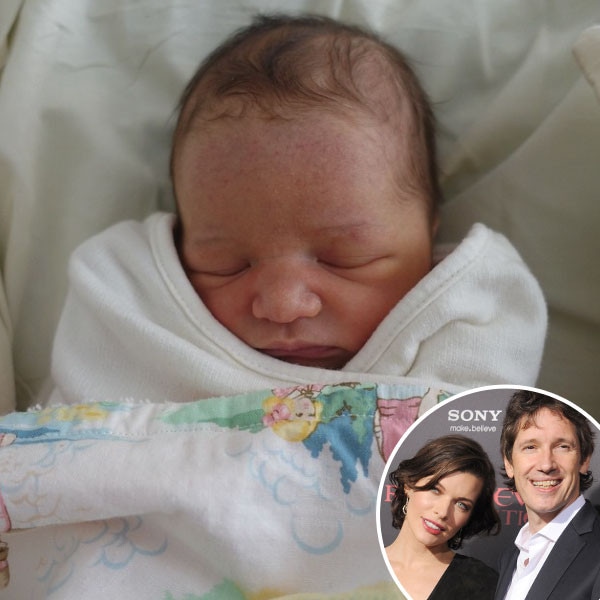 Instagram, Gregg DeGuire/WireImage
Milla Jovovich's newborn baby girl Dashiel Edan is just too cute!
The 39-year-old Resident Evil star Instagrammed a photo of her and Paul W.S. Anderson's second daughter Thursday. "We are so proud to announce the birth of our second daughter Ms. Dashiel Edan Jovovich-Anderson today!!!" gushed the actress. "She is 7lbs. 10 oz. and 20 inches long! We love you Dash!"
Milla, who delivered baby Dash at 5:45 a.m. Thursday,  chronicled many of the ups and downs of her pregnancy in a series of Facebook posts. There were times she was "pretty exhausted," she wrote, "being a full-time mom with our 7-year-old [Ever Gabo], reorganizing my home and hiking everyday to start getting my body ready for my post baby responsibilities..."
The mother of two is working on two films this summer, one of them being Resident Evil: The Final Chapter. Instead of having to crash diet or be in a rush to shed those pregnancy pounds, she made a point to stay healthy the entire time she was expecting.
"I wanted the transition [of going back to work] to be as seamless as possible (yea, right!) and I knew that if I continued eating whatever struck my fancy and not exercising, I would be heading for trouble soon because I had reached my optimal pregnancy weight of 175lbs. and I needed to stay there," she wrote in a Feb. 13 post. "Plus, I want to be able to nurse this baby as long as I can and knew that any extreme weight loss would be detrimental to my bodies ability to produce milk, so the more control I have now maintaining myself, the better it will be for baby 6-8 months down the road."
In another Facebook post, Milla reiterated she was staying focused on her health and fitness during pregnancy so that the time after her daughter was born could be "as stress free as possible!"
"To make sure that happens, I didn't want to have any issues with losing a whole bunch of unnecessary weight," she explained. "But the way I was eating and not exercising, I quickly saw that my body would go above and beyond the perfectly normal and healthy 35 lbs. I've gained during my pregnancy if I didn't make a real effort to step up my game and take care of myself."
So she did! Milla was hiking right up until the week her baby was born. She took her final pre-baby hike last week, but not because she didn't like the exercise! As she explained in an Instagram post last Thursday, she and her hubby "decided that I should stay close to home" once they hit their due date!
Better safe than sorry! Baby Dash wasn't born until a few days past her due date, but mom and dad were well-prepared and more than ready to meet her!