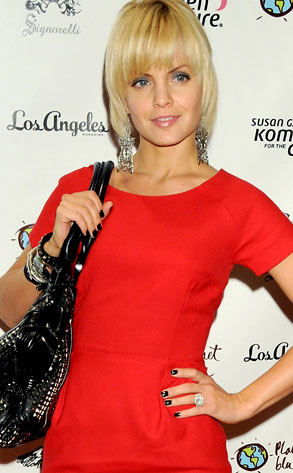 Gregg DeGuire/Getty Images
Mena Suvari showed off some serious bling at the launch party for Signorelli's "Love" collection, which benefits Susan G. Komen for the Cure, at Planet Blue Wednesday.
Not only is the recently engaged actress sporting a huge honking diamond, but she reveals that her fiancé, Simone Sestito, actually designed the ring.
"I really want it to be romantic and like a fairy-tale wedding," Mena tells E! News of her second trip down the aisle. "It's all very new to me. Even though I have been down that road before, I never have done any of these preparations so...there's a lot of stuff to do."
Mena also dished that she wants to tie the knot in Italy and is planning to scout locations next week when she's at the Rome Film Festival for the premiere of her new movie, Garden of Eden.
As for the dress? "I want to work with my friend Stacy, who designs Alice + Olivia, to design a dress," says Suvari.
—Reporting by Ashley Fultz