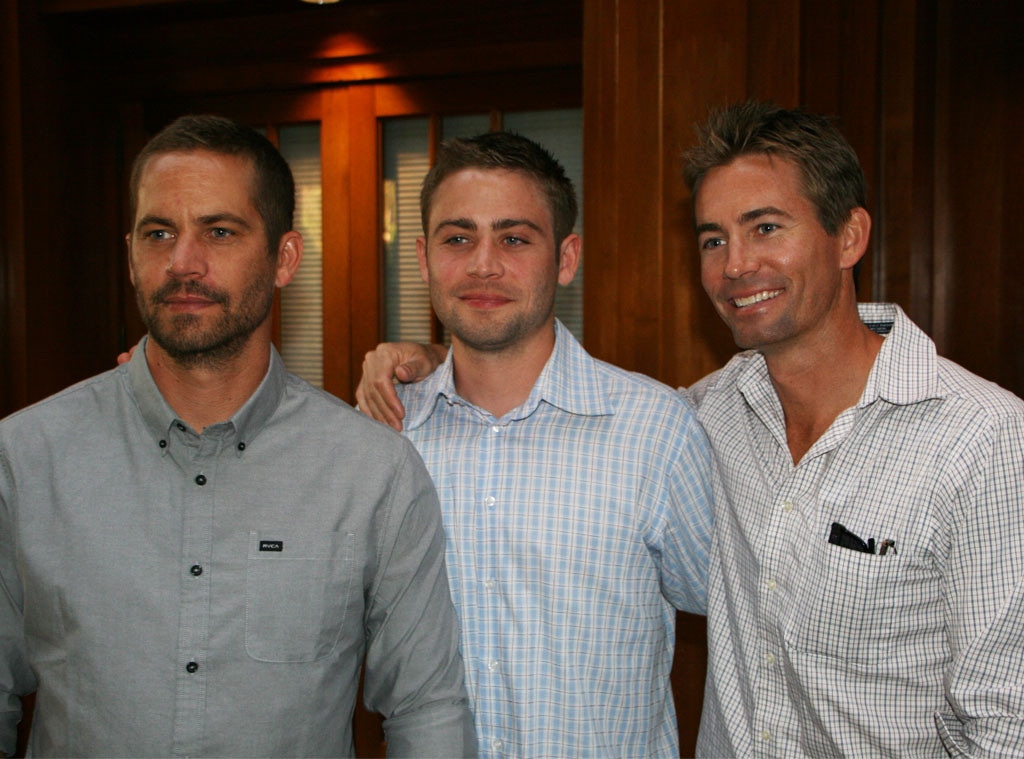 ROWW
Furious 7 is going to be a massive hit, it just will be, but that doesn't mean there isn't still a lot riding on the film's world premiere tonight, especially for those who adored franchise star Paul Walker.
Which is basically everyone who worked with him.
"I haven't seen the film in full. I've seen bits and pieces while working on post-production," Cody Walker, who along with brother Caleb Walker worked as a stand-in and body double on the film after Paul's death in a car crash on Nov. 30, 2013, said in an exclusive interview with E! News.
"To be honest, I'm a little nervous to see the completed project from an emotional standpoint," Cody admitted. "We'll be watching it for the first time [Wednesday] at the world premiere. I know it's going to be very emotional. So far, from what I've heard and seen, I think Paul would be proud."
He adds, "I want this film to be the best one yet—and the most memorable. A lot of people are going to remember Paul by this movie, and I want it to be worthy."
The buzz on Furious 7, which officially opens in theaters Friday, has been positive and the screenings have certainly been emotional, so we have a feeling that the Walker family—who in addition to supporting the film have been carrying on the late actor's charity work in his stead—is going to be proud of the finished product.
"It was an absolute roller coaster throughout the entire process—lots of tears, lots of laughs," Cody recalled. "It's an experience that I was very hesitant to commit to, but I'm really glad I did. I met a ton of really amazing people and made several life-long friendships."
He says that having Caleb with him "was absolutely essential. I don't think either one of us could have done it without the other. It brought us closer than ever at a time where we both really needed it. That is probably the single most important part of making this movie. The entire cast and everyone behind the scenes were amazing. They made Caleb and I feel so welcome and comfortable and made it as natural as possible."
Cody says that he knows now why Paul tended to keep his personal life as separate as possible from his public life, noting his brother's "mixed feelings" about show business.
"He did a really good job of keeping his family separated from this aspect of his life and now I can really appreciate that," Cody tells us. "It also was never a secret how loved Paul was, but seeing and hearing the way that everyone talked about him, from producers to crew, made it so obvious how much Paul was loved by every person we came across. Even in this crazy industry, he remained real, and people like that."
Joining the Furious 7 family has also given Cody and Caleb the chance to keep the profile as high as possible for their late brother's foundation, Reach Out Worldwide, which helps get emergency responders into disaster stricken areas. ROWW most recently sent a team to Vanuatu, where a deadly cyclone destroyed 96 percent of the island's food crop and left more than 75,000 people in need of shelter.
Sadly, many people didn't know just how hands-on Paul Walker was with regard to ROWW until he died and one account after another from those who knew him best illustrated just what kind of a guy he was.
"Paul was the real deal," says Cody, who is ROWW's CEO. "Both in the movie business and real life. Michelle Rodriguez put it perfectly in a recent interview: 'If he was going to shoot a gun in a movie, he learned how to be a sniper.' If he was going to fight in a movie, he freaking trained for six months. He was real."
"Same with his charity. If he was going to start a post-disaster charity, he was going to be in the trenches—sleeping on the dirt, cleaning wounds, carrying hundreds of pounds of gear to the most remote areas to those who needed it most. He didn't want to just 'have a charity.' He wanted to be it. And he was. He was the heart and soul of Reach Out Worldwide. He always led by example, and I really looked up to him for that."
As far as the fate of ROWW, which will be holding a celeb-studded fundraising event on April 25 at Mobli Beach House in Venice, Calif., through Tiltify and Twitch.tv (where you'll be able to watch the party streaming live), Cody has nothing but optimism for the legacy of Paul's work moving forward.
"ROWW is stronger than ever," he said. "I'm not going to lie, it hasn't been the smoothest ride, but what different would you expect after losing your founder, leader, funder... brother?
"The outpouring of support we've received from fans has truly made all of the difference and makes each day something to look forward to. We have received so much love and generosity... It's been absolutely amazing to see Paul's fans, and now ROWW's supporters, come out in such force to continue his Legacy. ROWW will only grow stronger to continue Paul's legacy for years and years to come. We are always conscious of Paul as we continue to grow—I want to make certain that ROWW continues on a path that Paul would be proud of."
(E! Online and Universal Pictures are both members of the NBCUniversal family.)