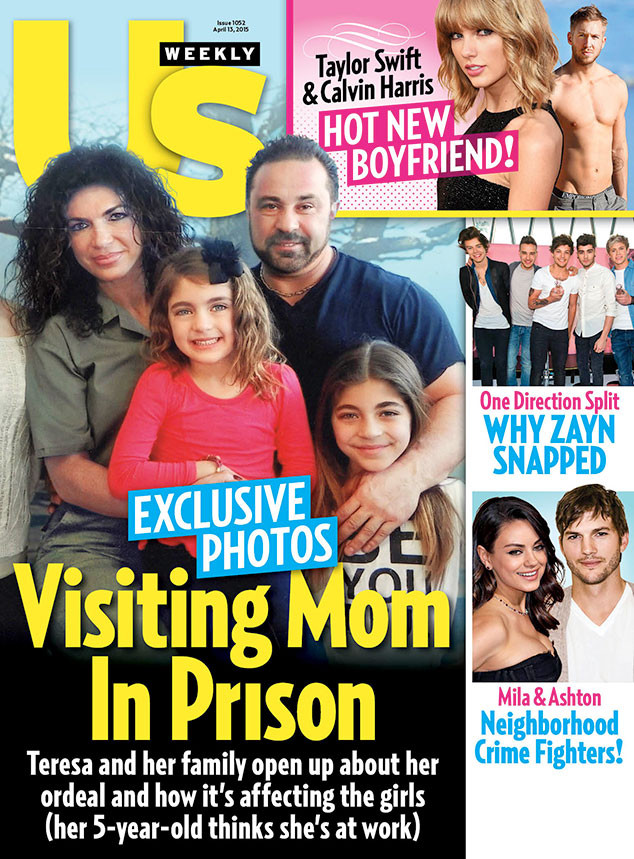 Us Weekly
This is what Teresa Giudice's life looks like now.
The imprisoned Real Housewives of New Jersey star appears on the cover of Us Weekly's Apr. 13 issue, posing with her husband, Joe Giudice, 44, and daughters Milania Giudice, 9, and Audriana Giudice, 5. (Daughters Gia Giudice, 14, and Gabriella Giudice, 10, were cropped from the tabloid magazine's cover.)
The family picture, taken inside Danbury Federal Prison March 15, is a far cry from the glamorous photo shoots is used to as a Bravo reality star. With her tan fading and her naturally curly hair flowing freely, Teresa puts on a happy face for the camera as her husband shares new details about her life in prison.
Teresa puts on a smile for her family, too. "She comes out with her smile, with a little wave," Joe says.
According to Joe, the girls make nightly phone calls to Teresa and drive 80 miles a week to visit her in Connecticut. "I cry more than the girls," he says. "I pretty much cry every time I leave. Like a little baby."
During their six-hour reunions, Teresa, 42, helps her daughters with their homework while the younger ones take turns sitting on her lap. "It's not horrible place," Joe explains. "She never says anything bad."
While Gia, Gabriella and Milania realize Teresa is in prison, Joe says Audriana "thinks she's working."