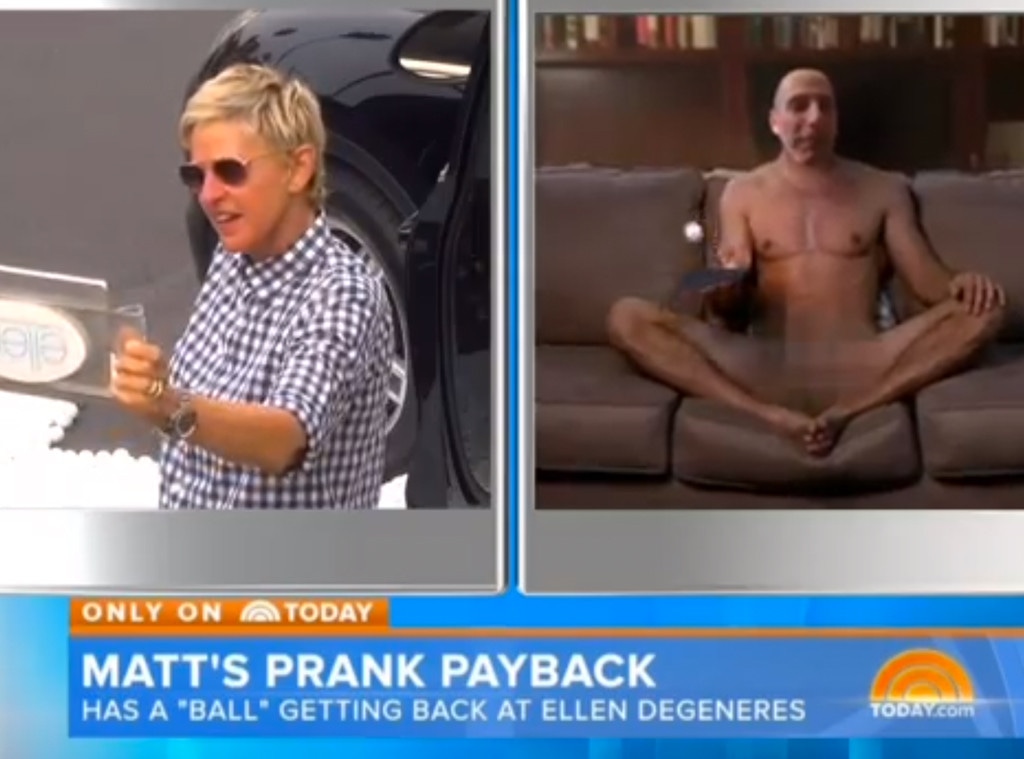 Facebook
Ellen DeGeneres and Matt Lauer are not backing down from their hilarious pranks!
Almost two months after the talk-show host started things off with a bang by showing the Today show co-host whipping Fifty Shades of Grey star Jamie Dornan, the back-and-forth jokes are getting bigger and better.
This week, DeGeneres is stepping up to the plate after her friend placed 20,000 ping-pong balls through the sunroof of her beloved Porsche Cayenne.
"I'd like to stop, but I can't," Ellen said on her Emmy-nominated show Tuesday. "I think he's making himself a little too comfortable. You be the judge." 
With the help of some clever digital edits, Ellen and her team worked their magic and presented Lauer completely naked as he shaves his legs, plays ping-pong and even slaps his butt with a paddle.  
"I've seen this in its entirety," Matt said Tuesday morning on Today. "You don't want to go there early in the morning after an Egg McMuffin."
Savannah Guthrie couldn't help but agree. "I couldn't even look at it," she admitted while laughing at her co-host's expense. 
Before you crown Ellen the winner in this epic battle, you better prepare yourselves for another round of LOL-worthy tricks.
"I even blushed at this one," Matt later confessed. "Game on again."
Oh, this is just too good...and it's not even April Fools' Day yet! 
(E! and NBC are part of the NBCUniversal family)