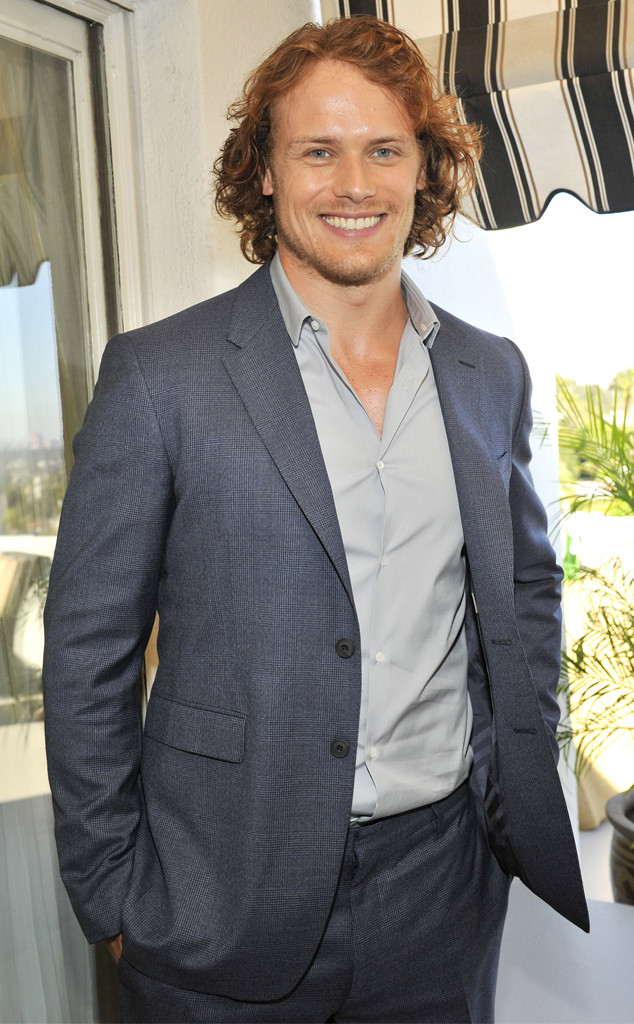 Donato Sardella/Getty Images for Vanity Fair
There are moments in one's career when you think: I've made it. I'm a bonafide professional. And my work ethic just doesn't get any stronger.
This was not one of those moments.
The hangover made that pretttyyyyy clear.
However, I did have what was probably one of the most enjoyable moments of my career yesterday, sitting down, over some very fine Scotch, to chat with Outlander star Sam Heughan, who was promoting the return of Outlander this Saturday on Starz. 
I know where your mind is going. "Of course you did, you eeejit lassie! He's good-looking, the star of one of the best shows on TV, and you were drinking on the job at 10:30 a.m. on a Monday?"
All true. But honestly, none of that is why. 
Sam Heughan, despite looking the way he does, and despite having one of the most passionate and involved fanbases of any TV star around, seems to not have let any of it go to his head.
He's just a kind soul. Warm and funny. And willing to have a little fun, all for the sake of a pesky little journalist, and his fans who want to get to know him a little better.
Also, in case it's not perfectly clear: I am indeed a diehard fan of Outlander, which finally returns to Starz on April 4. (You still have time to watch the first 8 episodes right here!) Not only because it's one of the most thrilling romances ever told on TV (thanks to the brilliant minds of author Diana Gabaldon and producer Ronald D. Moore), but because Sam and co-stars Caitriona Balfe and Tobias Menzies are, in real life, the kind of people you can't help but want to root for. 
Below, you'll find two videos. One, is my "interview," in which Sam talks about what to expect in the new episodes, starting this Saturday, how he's prepping for season two and most importantly: Some fascinating (and hilarious) thoughts on what it's really like to shoot one of the show's graphic, and memorable, sex scenes. (I'm not blushing. You're blushing!) The perfectly timed phone ring slayed me. As did Sam's explanation of who was calling.
Related:
Sam Heughan Goes Whiskey Tasting With Kristin Dos Santos
I hope you enjoy them, and it makes the final days of our "Droughtlander" a wee dram more tolerable.
Check back tomorrow for what Sam said about a possible crossover with another hit show!
And make sure you check out E! News this Friday at 7 p.m. for more of my interview with Sam!
Slainte! (That either means "cheers" or "pig's feet." Gaelic lessons are best done when not drinking 50 proof substances.)
Follow Kristin Dos Santos on Twitter, Instagram and Facebook for more Outlander scoop!