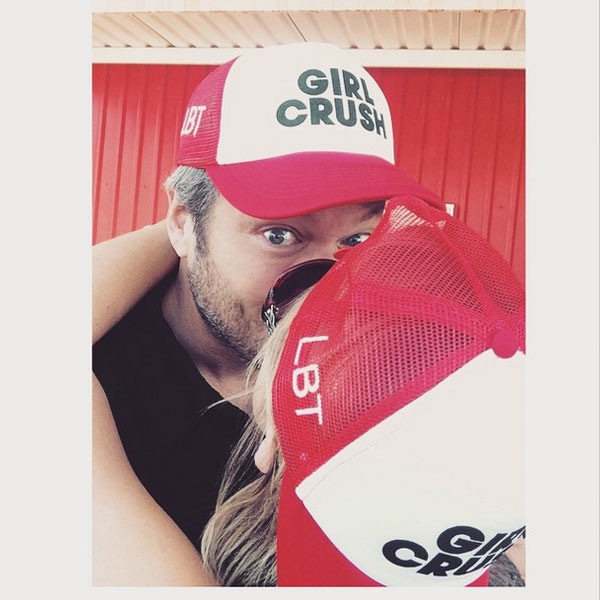 Instagram
Aw, how cute are these two?!
It's hard to believe that at one point Blake Shelton and Miranda Lambert were constantly slamming divorce rumors after seeing just how affectionate the two are with each other.
The Voice coach and his country-croonin' lady snapped a pic of themselves planting a fat smooch on the lips, which was later shared by Lambert on her Instagram.
The photo, which mostly shows Blake's big blue eyes while enjoying that kiss from his wife, also features the pair supporting their fellow country singing pals Little Big Town by wearing hats that promote the band's latest (and controversial) song "Girl Crush."
"We love @littlebigtown #girlcrush," Miranda captioned the pic.
Courtesy: Little Big Town
"Girl Crush" has received a lot of attention since it's release, but not exactly the type of attention one might have wanted—the track was actually pulled from several country music stations, including 104.3 FM in Boise, ID, over complaints about the lyrics.
Why, you ask? Well, apparently, some listeners felt the track promoted gay relationships, and that didn't sit well with them.
But Karen Fairchild, the lead vocalist on the provocative song, says that people are reading into the lyrics the wrong way and that "Girl Crush" is about "a girl saying [to her ex], 'Why do you love her and not me' and not about a lesbian relationship."
Despite all the backlash, the single is blowing up the charts and has been selling 25,000 copies a week for almost a month.
Jordan Strauss/Invision/AP
Meanwhile, Shelton and Lambert aren't always big on the PDA-front, but they've explained in the past that their low-key approach with their relationship while in the spotlight is just what works for them.
"We feel like we're very honest with who we are and our relationship," the 31-year-old "Heart Like Mine" singer said of her marriage with Shelton during a 60 Minutes interview.
"We've kinda told the good, the bad, the ugly as our relationship has progressed from the beginning till now. And people dig anyway and they make up lies, so I feel like, we don't really hold back, because if you hold back they're going to dig anyway so might as well just tell it," Miranda added, noting that their home in Oklahoma is the only place where they can really maintain privacy.
"The only private thing we have is our home and, if we don't protect that, then we have nothing. We have to have something that's just for us. At some point you just have to go 'all right, this is it, this is our line, you know.' We have our one little area of the world that no one can come into."