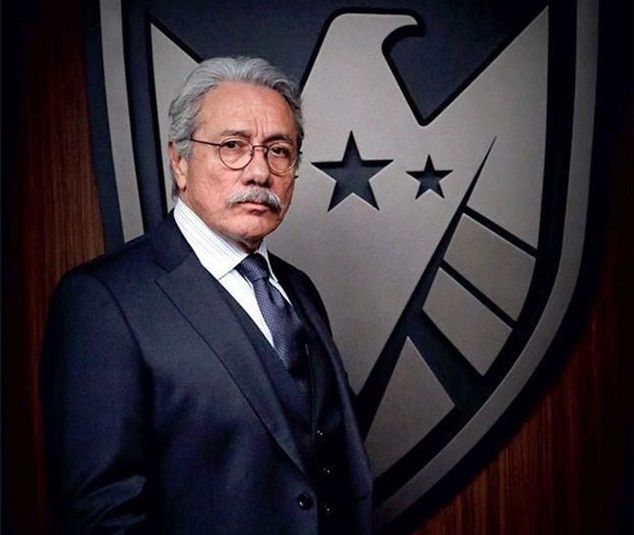 ABC
As someone with a resume that would tickle any nerd's fancies, for Edward James Olmos to call his most recent project "one of the high points of my career" is really and truly saying something.
The Battlestar Galactica vet has portrayed more than a few iconic characters in his long and storied career, but his first foray into the Marvel Cinematic Universe by way of Agents of S.H.I.E.L.D. introduced the complex mind of Robert Gonzales, aka the head of the "real S.H.I.E.L.D." working against Coulson (Clark Gregg) and his team to bring transparency to the once-great-but-now-flawed organization.
"It's fantastic. I'm very honored and pleased to be a part of this world," Olmos tells E! News. "I'm so grateful they were confident enough in me to let me portray this character, especially since he's Gonzales. What he represents and what he means is huge. This is going to be one of the high points of my career."
Olmos could barely contain his excitement over joining the Marvel universe in such a weighty role.
"This is the first time I am in the Marvel world. I've been in the Galactica world, I've been in the Bladerunner world, but I've never been in the Marvel world before now," Olmos says. "It's amazing. The sky is the limit. Humanity needs the understanding and the help, and I'm here to help. S.H.I.E.L.D. is life and life is S.H.I.E.L.D. Without S.H.I.E.L.D., there is no life. Whoa, I need to start quoting myself. That was pretty great!"
But when asked whether viewers should consider Gonzales to be a villain since he's blatantly working against the team we've come to know and love for so long, Olmos just laughed.
"I guess you must be a Phil Coulson fan, and not a S.H.I.E.L.D. fan," he says. "We are both on the same team. You know that right? We both respect S.H.I.E.L.D. and we're trying to live up to its code and our own moral code. I think you're in for a hell of a ride if you just like Coulson and you don't like Gonzales. Remember one thing: when Gonzales smiles, the whole world smiles with him."
And when Coulson and Gonzales, two men who believe they alone are in charge of the world's most powerful government organization, finally come face-to-face, expect major drama.
"You'll learn a lot of truth from everybody," Olmos says. "I'm not kidding, it's going to start to become really complex. When you listen to Republicans, and you listen to Democrats, and they're both speaking the truth—their own truths, but still the truth—that's when you have a real complex situation. You either have to choose one of their ways of thinking, or you get turned off of both of them and think, 'My idea is better than both of those ideas!' It's going to be really interesting and I'm so excited for the next episode."
Especially since this episode will open some long-festering wounds for everyone in S.H.I.E.L.D.
"The joy, the frustration, the love, the pain that S.H.I.E.L.D. has to go through, I'm excited for everyone to see that," Olmos says. "When I was talking about how Isabelle Hartley [Lucy Lawless] was my best friend, and maybe that was the last time she saved anybody, why was she hurt? Why was she killed? That responsibility all falls on Coulson's decision-making. Was he right? Was he wrong? I'm excited for everyone to ask themselves that."
Agents of S.H.I.E.L.D. airs Tuesdays at 9 p.m. on ABC.